ISIS militants seize 4 Iraqi towns in just 2 days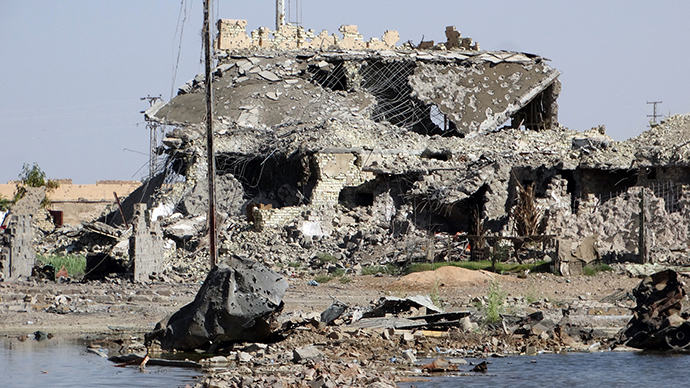 The militants of the Al-Qaeda splinter group ISIS, also known as ISIL, managed to capture three new towns and two border crossings on Sunday, according to eyewitnesses, officials, and security sources.
Follow RT's LIVE UPDATES on ISIS offensive in Iraq
"Army troops withdrew from Rawah, Anah and Rutba this morning and ISIS moved quickly to completely control these towns," an unnamed military intelligence official told Reuters after the three had fallen.
The militants captured the three towns in Iraq's western province of Anbar, Reuters reported. Later in the day, militants seized two border crossings – one with Jordan and one with Syria, Iraqi officials told AP.
Officials stationed at the Syrian border post of al-Waleed bolted after a group of militants spread out over two cars fired their guns into the air. An anonymous government official blamed "terrorists", reported Reuters.
Iraqi troops have ceded control of four towns in the last two days.
On Saturday, the town of Qaim was captured by insurgents.
The Sunni terror group #ISIS is now four towns closer to Baghdad: http://t.co/kUgZzLnBJIpic.twitter.com/NhJvXjDpiR

— CNN International (@cnni) June 22, 2014
Staff in Iraqi Prime Minister Nouri al-Maliki's office has held a press conference later Sunday commenting on the confused retreat of the country's army.
The Iraqi government's security spokesman, Lieutenant General Qassem Atta, said that the withdrawal from the three cities was "tactical."
"The military units' withdrawal (from Al-Qaim, Rawa and Ana) was for the purpose of redeployment," he said.
One of the captured towns, Rutba, with a population of about 55,000, is situated in a strategic location about 150 kilometers east of the Jordanian border, with the Amman-Baghdad road and the Mosul–Haifa oil pipeline passing nearby.
READ MORE: All you need to know about ISIS and what is happening in Iraq
A clear map on #ISIS areas of control in #iraqhttp://t.co/FYJVt76Jc4

— Mohamad Shbaro (@MohamadShbaro) June 22, 2014
Anonymous sources told AP that the army intends to fight back to recapture Rutba and threatened to start shelling. This prompted the town's residents, among whom there could be up to 20,000 refugees from Fallujah and Ramadi, to negotiate with the invading militants to leave the city peacefully.
Two other captured cities, Rawah and Anah, stand on the banks of the Euphrates River. The militants appear likely to head for the city of Haditha, where an important dam is positioned. The Iraqi military has reportedly dispatched 2,000 additional troops to protect this dam, but whether the army will be capable of fulfilling the task remains to be seen.
The Sunni militants control vast areas not only of Iraq but of Syria as well. Control over border crossings, such as the city of Qaim, allows the insurgents to easily transport ammunition and supplies between the two countries.
In the meantime, thousands of pro-government Shiite militiamen marched through Baghdad, Kirkuk and other Iraqi cities in a show of force.
#Iraqi women's are also ready to combat with #Takfiri#ISIS#ISIL butchers to #SaveIraq & Holy Shrines #PrayForIraqpic.twitter.com/ZgbI6oNTf8

— Shia News (@shianews313) June 21, 2014
The march demonstrated that the Shiite militia is armed not only with handguns, but with heavy weaponry as well, such as multiple rocket launchers, artillery and heavy machine-guns.
The Sunni insurgents, many of whom have been fighting against the Syrian government of President Bashar Assad for the last three years, are also very well armed. In the current conditions of sectarian conflict between Shiites and Sunnis in Iraq, a civil war in the country could be particularly bloody and ruthless.
You can share this story on social media: