'No to war!': Thousands of miners protest Kiev's crackdown on E. Ukraine
The coal miners of the Donetsk region have stayed away from work and marched in downtown Donetsk against Kiev's military campaign against Ukrainian citizens, which has already killed over 250 civilians, according to the UN.
A rally on Donetsk's central Lenin Square initially attracted about 1,000 people. But the miners from all major coal pits nearby Donetsk: Gorlovka, Enakievo, Snezhnoe, Topaz and Donetsk neighborhood itself continued to arrive and finally the number of protesters reached estimated 10,000, Itar-Tass reported, citing the press service of the self-proclaimed Donetsk People's Republic (DNR).
The DNR's minister of coal mining and energy, Aleksey Granovsky, addressed the gathering, saying: "We demand an immediate end to the punitive operation and withdrawal of the troops from Donbass. This is our last peaceful action."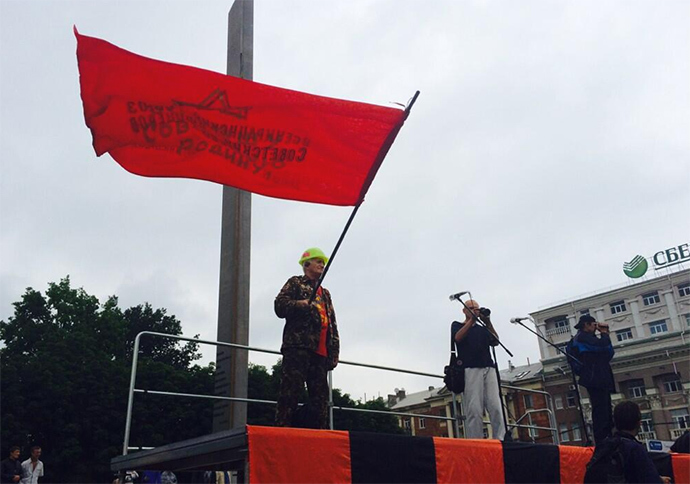 The Independent Union of Donbass Miners, which represents miners in the Donetsk and Lugansk regions, also demanded an immediate end to the so-called "anti-terrorist" operation by the Kiev authorities.
The miners chanted anti-war slogans: "No to war!" "Fascism won't get through!""Donbass!" and "Slavyansk is a hero city!"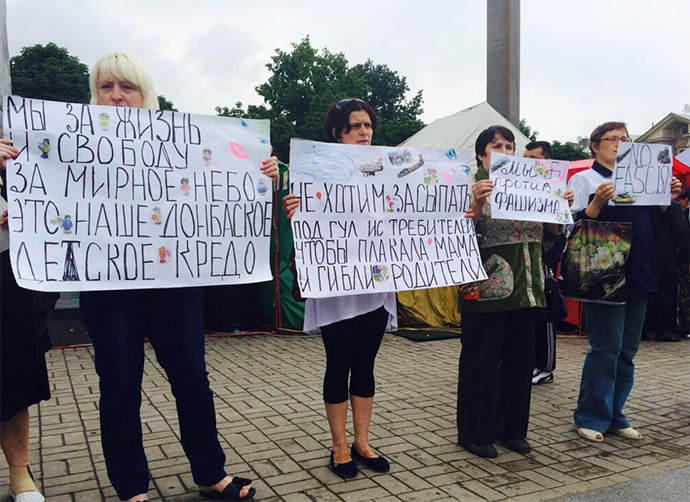 Many protesters carried banners and flags. Some people wearing camouflage outfits were seen among the civilian protesters, but none came to the rally with openly held weapons. Police maintaining order at the rally kept their distance and the march went off without incident.
The traffic in the center of Donetsk was partially blocked as a column of protesters marched downtown. Drivers in the streets nearby cheered the demonstration by honking their horns.
Wednesday's demonstration was the largest anti-war protest in eastern Ukraine in the last few months.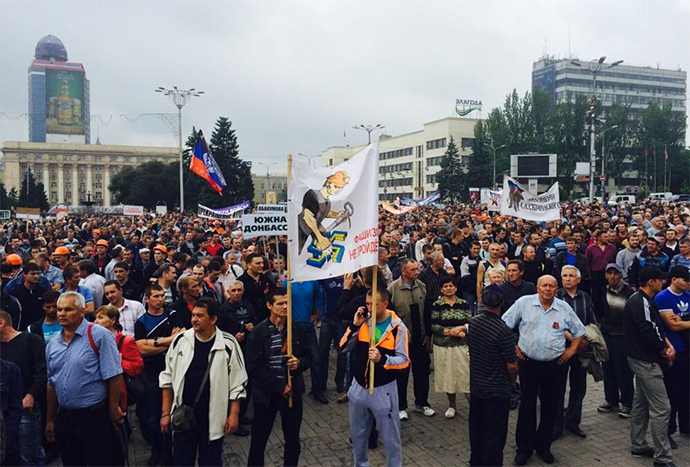 The previous biggest protest of coal miners took place in late April, when over 2,000 coal miners in Lugansk region went on strike, demanding higher wages and refusing to accept a pay cut to fund the restoration of Kiev, which suffered damage during the coup that overthrew the government.
According to the latest UN report at least 356 people, including 257 civilians, have been killed in the violence since the beginning of the "anti-terrorist" military campaign in Ukraine's eastern regions of Lugansk and Donetsk.
Kiev's forces are using heavy weaponry, airplanes, choppers and armored vehicles in the eastern regions of the country, in an effort to defeat anti-government forces demanding federalization of the country. The sweeping majority (over 90 percent) of Donetsk and Lugansk regions' population voted for self-rule in May referendums.
The conflict has already claimed lives of several journalists, from including from Italy and Russia.