Ukraine coal miners on strike, refuse to pay Kiev coup damages bill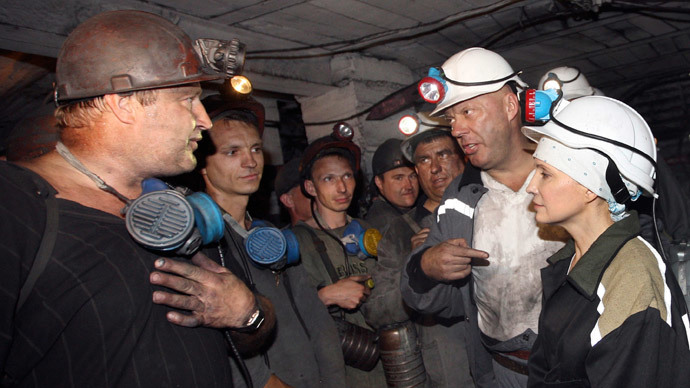 ​Over 2,000 coal miners in Lugansk region have been on strike for the second day running, demanding higher wages and refusing to accept a pay cut to fund the restoration of Kiev, which suffered damage during the coup that overthrew the government.
Some 80 percent of miners from five coal mines belonging to "Krasnodonugol" enterprise in the city of Krasnodon have not shown up to work. The mines are all owned by one of Ukraine's richest man, Rinat Akhmetov of the mining and metallurgical "Metinvest" corporation.
Angry miners are pressing for wage increases to match region's average pay, better social and living conditions and higher social bonuses. According to the strikers they get between 3,000 ($260) and 6,000 hryvnas ($520), while the average salary in the coal industry in the region is up to 10,000 hryvnas ($860).
Miners are also refusing to pay a 10 percent tax on their salaries, imposed by the post-coup authorities to restore the Maidan square in Kiev. The square and nearby buildings suffered significant damage during months of rallies and the violent standoff that led to a coup in February.
According to local media reports miners have seen around a 10 percent cut in their paychecks to restore the Ukrainian capital.
"I don't understand why are we involved!" one of the protesting miners, Stanislav Denisenko told ITAR-TASS. "It was not us who dismantled the stones and burned the houses down. I get about 3,000 hryvnas a month. I don't understand why they are taking away my salary."
Local media also reports that protests also demand the reinstatement of a few dozen of their colleagues who they say have been fired from their jobs for taking part in pro-federalization rallies in the region.
While the coal sector workers mainly remain apolitical, some still question the legitimacy of the Kiev government.
"We are also against Kiev's junta. We do not recognize their authority. It is not legitimate. We stand for the memory of our ancestors fighting alongside Russians. We're all Slavs. We are one nation. We do not have heroes such as Bandera and Shukhevych. We are against these people because they are destroying our history," one of the protesters said during the second day of the strike.
The prosecutor's office in Krasnodon is now conducting an investigation into the legal compliance and requirements for miners fair pay. The company is locked in negotiations with the strikers.
International relations expert Mark Sleboda told RT that Kiev cannot afford losing control of "the real bread winner of the Ukraine" – the mining industry.
"The mining industry employs about 500,000 people throughout the region, provides about 15 percent of the country's GDP and coal alone is 30 percent of Ukraine's energy consumption," Sleboda says.
You can share this story on social media: