'Bombardment never stops': E. Ukrainian refugees share horrors of Kiev military op
Kiev does not care about civilians in eastern Ukraine, and people have to flee their homes amid daily bombings, Ukrainian refugees told RT at a temporary camp in Russia's Rostov. It comes amid Kiev's "lies" about humanitarian corridors, they said.
Thousands of eastern Ukrainians are flowing into Russia amid the ongoing Kiev military operation, in which the cities occupied by anti-government activists are being shelled and bombarded with heavy artillery and incendiary bombs. Even in large regional centers like Lugansk, people no longer feel safe, as cases of Ukrainian jets launching missiles at central city buildings in broad daylight have been reported.
While many men and elderly people of eastern Ukraine are unwilling to leave their native land, women with children are flocking to Russia's cities and regions to stay with relatives or friends. Those who have neither are heading for refugee camps in Rostov.

"According to the Federal Migration Service, more than 40,000 Ukrainian citizens have crossed into Rostov Region. As of today, about 4,000 Ukrainians have been housed in temporary accommodation centers," a local Russian Emergencies Ministry official, Aleksandr Naumov, told RT.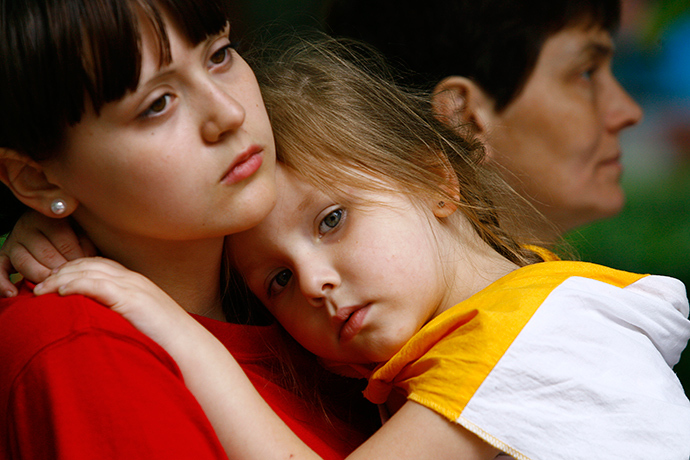 Reporting from the Russian-Ukrainian border, RT's Paul Scott interviewed several women, who said they left their husbands and relatives behind to get the children away from shooting, bombing, and air raids.

"We left because we are scared. The streets are empty – we are afraid to let our children go outside. They too got scared and nervous with the constant sound of gunfire and jets," a woman said.

Another female refugee, who fled the embattled city of Slavyansk with two small children, shared the story of their desperate escape.

"First we fled to Nikolayevka when the bombardment got intense. They then started bombing Nikolayevka too and we fled to Artyomovsk. In Artyomovsk, almost every night there were shootings, explosions, we heard how Grad [multiple rocket launchers] were fired at some places nearby...I can't bear those sounds anymore," the woman said while crying.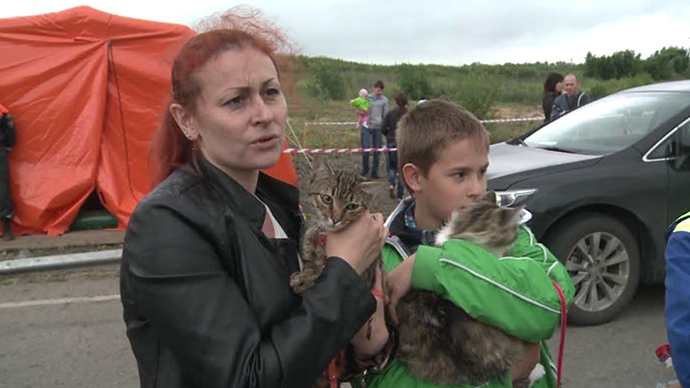 People from other regions of eastern Ukraine "are in fact fleeing because they know the story of Slavyansk," another woman, who crossed to Russia with her two sons and cats, told RT.

"The [Ukrainian] National Guard is simply bombarding the people, killing children. We fear for our children above all, we want them to be alive and well," she explained.

One of her sons has been having nightmares because he heard a shooting close by at night, the woman said.

According to the woman, her Ukrainian-speaking neighbors do not understand her family and support Kiev's military operation. Moreover, the Ukrainian authorities and media are outright "lying" about civilian corridors being organized for refugees, she said.

"It is scary in this situation that the Ukrainian authorities, the Ukrainian media are lying about humanitarian corridors being organized – there is no such thing in reality. They are not letting the people leave, and the bombardments never stop. They don't give a damn about us, the people of Donbas, Lugansk, they just need the territory," the woman said.
Watch RT's Paul Scott talking with eastern Ukrainian refugees
OSCE Secretary General Lamberto Zannier on Thursday visited Rostov to meet with eastern Ukrainian refugees and hear their accounts of Kiev's military operation – a move which was welcomed by Moscow. Russian Foreign Minister Sergey Lavrov said that talking to witnesses about the events in eastern Ukraine is crucial for anyone wishing to get a "full, clear and impartial picture" of what is happening there.

However, Zannier outraged the refugees after saying that newly elected Ukrainian President Petro Poroshenko "wants prosperity for Ukraine and is ready to use every effort for that." The witnesses of Kiev's military operation responded by shouting: "No! This is not our president, we did not elect him," RIA Novosti reported.

Meanwhile, ousted Ukrainian President Viktor Yanukovich on Friday recorded a video address, in which he urged Kiev to stop the military operation.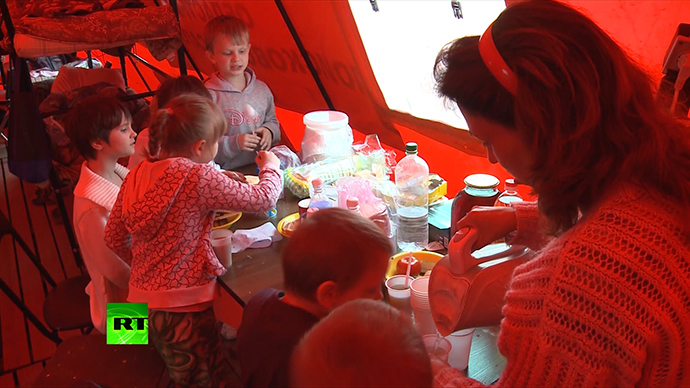 Yanukovich, who was born in Donetsk Region, said people there are "shocked that instead of peace and stability [they got] a bloody massacre" right at the start of Poroshenko's term.

"It is unbearable to see those deaths, this hatred incited in the not-so-long-ago peaceful country," the ousted Ukrainian leader said. Yanukovich wondered why European leaders kept reminding him of the "unacceptability" of the use of force against civilians in the wake of mayhem in Kiev, but are now supporting the use of heavy artillery and jets against the population of eastern Ukraine.

The Russian Foreign Minister on Friday held a phone conversation with his Ukrainian counterpart, Andrey Deshchitsa, in which he reminded Kiev of its responsibility for handling the humanitarian situation in eastern Ukraine.

"Lavrov particularly stressed the importance of providing humanitarian aid to the residents of southeastern Ukraine, the creation of appropriate conditions for a safe passage of refugees to the territory of the Russian Federation," the Russian Foreign Ministry said in a statement.
You can share this story on social media: