#Don't kill us: Refugees from Eastern Ukraine make a plea for peace (VIDEO)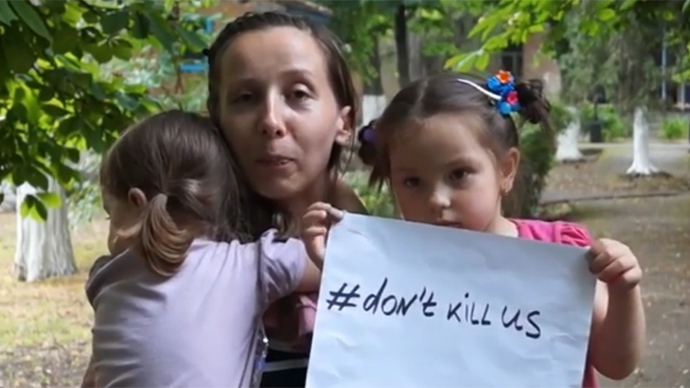 Refugees who fled the turmoil in Eastern Ukraine made a video plea, where they hold a poster with the hashtag #DontKillUs, urging the Kiev government to stop military assaults in the area.
Women and children that have been sheltered in a children's summer camp Dmitriadovsky in Russia's southern Rostov Oblast appear in the 5-minute video asking Ukraine's newly elected President Petro Poroshenko to stop the killing and withdraw Ukrainian troops.
Each of their messages asks the president to let them live and ends with a plea not to kill any more of their relatives.
The hashtag took the Twitter stratosphere by storm.
Overall about 20,000 women and children from Ukraine's southeast have crossed the border into Russia's Rostov Region in the last three days, according to regional authorities in Rostov. They added that at least 7,335 Ukrainian citizens have entered the Rostov Region in the last 24 hours.
Refugee Victoria from Lugansk expressed her concerns for loved ones who stayed behind and expressed her gratitude to Russia for providing shelter to her and her children.
"My husband and my parents have stayed behind in Lugansk. It was very difficult to leave town, and very scary. There was unrelenting gunfire, and my entire family had to lie down on the floor to stay safe. I can't even tell you how scary that was. I'm very grateful to the people who have sheltered us here, we've been provided with absolutely everything. Thank you very, very much, Russia. I'm thankful for the fact that my children and myself are here. I'm really worried about the people who have stayed behind, and it's very disturbing to watch the news and see what's going on there. I beg you, stop the killings. Stop killing civilians, enough bloodshed."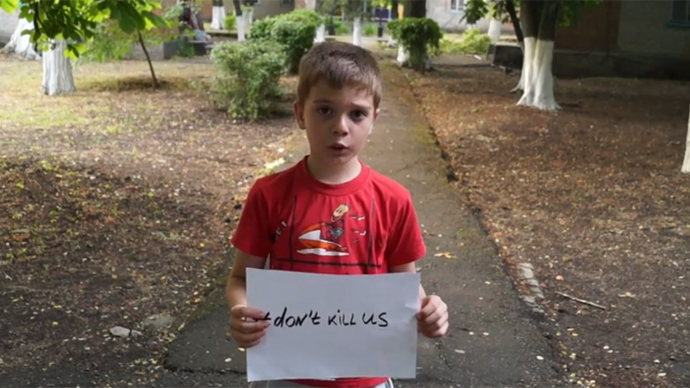 Little boy Maksim uses the video message to say hi to his dad and grandparents, who are still in Lugansk.
"I want to say Hi to my Dad, who is now fighting for our country, and to my grandmas and granddads. Our dog, my Dad, grandmas and grandpas are still in Lugansk now. I want to ask them to take care. Please don't kill people, please."
Refugee Olga called out the Kiev authorities for labeling them various names, including terrorists, while in reality they are just normal people asking for peace.
"I came here from Slavyansk but my husband, my brother and other relatives are still there. We are ordinary people, and not what they called us during these months. First, they referred to us as 'mercenaries', then 'separatists' and later 'terrorists'. We are ordinary people, and our relatives are still in Slavyansk. We urge you not to kill our relatives."
Refugee Svetlana Garkavenko said she was tired of living in a war zone, adding that this situation is making the children suffer.
"Mr. Poroshenko, I am a resident of Slavyansk. We are tired of living in a war zone when our houses are constantly being shelled. Children are suffering, they are afraid and have to spend the nights in basements. Leave the town of Slavyansk in peace, pull back the troops. We want to return to our homes, we love our town of Slavyansk. We are tired of going through this torment."
You can share this story on social media: