Tourist season under threat? No end in sight to paralyzing French train strike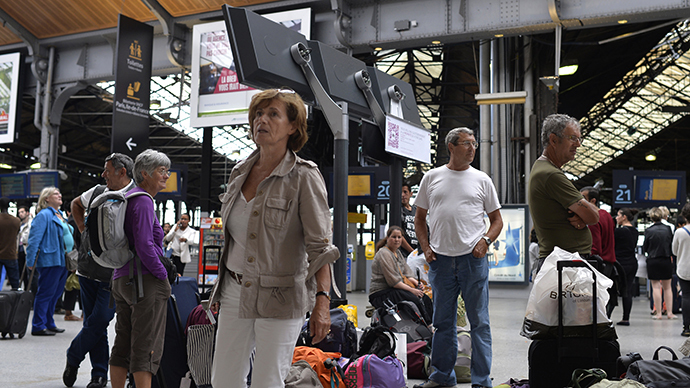 A French workers' strike has entered its fifth day and is likely to continue next week. The protests have already brought some of the worst disruptions to the rail network at the beginning of the tourist season.
The famous high-speed TGV has reduced the number of trains operating between cities to one in three trains. Those arriving at Paris' international airports also have trouble getting into the city.
Thierry Lepaon, the leader of the CGT Union (General Confederation of Labor), the first of the five major France's confederations of trade unions, called on President Francois Hollande to find a way out of the situation by the end of the weekend.
15 heures de retard pour certains, pas de train pour d'autres, ambiance garantie gare de Lyon ! #BFMTV#SNCF#grevepic.twitter.com/LEBYpeJjC7

— Louis Baguenault (@louisbaguenault) June 15, 2014
However, the strike turns out to be "extendable," as protesters dub it, even despite calls from Hollande along with Prime Minister Manuel Valls to end it immediately.
"There comes a moment when we must know when to end an industrial action and be conscious of everyone's interests," Hollande said on Friday, "A dialogue has been opened and it must now be completed."
'Worst in years': France hit by nationwide train strike (PHOTOS)
Sur le Paris-Nice de ce matin... #SNCF#grèvepic.twitter.com/fTiZ1pYvkJ

— Chris Tof (@Dint_Chris) June 15, 2014
Grève à la SNCF. Que veulent les cheminots ? ... Euh, nous faire chier ??-) #greve#scnfhttp://t.co/hZcViStRpZpic.twitter.com/7JDUZWq0rk

— Frédérick van Gorkum (@fvg35) June 13, 2014
The rail strike started late Tuesday and since then spread across the country and above. The rail operator SNCF (National Society of French Railways) said not only TGVs, but regional trains were affected. Only one in two trains to Spain were due to run.
#Grève à la #SNCF en France: la première journée du Bac menacée http://t.co/9AIMJpLuX9pic.twitter.com/07NrKHFbPp

— Luxemburger Wort FR (@Wort_FR) June 13, 2014
Only 10 trains featured on the arrivals and departures list against around 45 on normal days in Gare d'Austerlitz, one of the six large terminus railway stations in Paris, added the SNCF official.
The protests set off just week ahead of France's National Assembly starts to consider a bunch of reforms to solve the debt crisis of rail network and services. The reforms plan to open up France's rail services to competition and to unite SNCF with RFF (French Rail Network) which had over 32 billion euro in debt at the end of 2013.
The rail sector's debt counts more than 40 billion euro ($54 billion), and would likely grow to 80 billion euro by 2025 if nothing was done to resolve the crisis, said Frédéric Cuvillier, a Junior Minister for Transport and the Maritime Economy.
However, the unions claim the reform to bring together SNCF and RFF won't help to resolve the issue.
Les gens qui attendent au filtrage pour embarquer sur le Marseille.. #sncf#greve#grevesncf#garedeLyonpic.twitter.com/d6mm5h7zZv

— Marcohoho (@Marcohohow) June 15, 2014
"The rail workers will not go back to work without written guarantees from the government for a modified reform," Gilbert Garel, general secretary of union CGT cheminots, told France Info radio.
Meanwhile, commuters don't like the way rail services express their disagreement with the government.
"We want the unions to find other ways of putting pressure on the SNCF other than holding passengers to ransom. We are innocent people in all of this. The government and the SNCF are not," Jean-Claude Delarue, from rail users group SOS-Usagers told the Local. "Conditions are really very bad for commuters, especially in the Paris region. It's abominable."
Une gare vide en journée.. #greve#sncf#garedeLyon#grevesncfpic.twitter.com/E6UiKt6pCn

— Marcohoho (@Marcohohow) June 15, 2014