Massive delays, closures & congestion as London Underground strikes
In the face of projected job cuts and modernization plans hazarding safety, London Underground workers have gone on strike for two consecutive days. With millions affected, MPs mull adding 'the Tube' to essential services, thus limiting strikers' rights.
Two trade unions are currently on strike – the RMT (Rail, Maritime and Transport) and the TSSA (Transport Salaried Staffs Association).
The strikes are a reaction by Underground workers to plans by Transport for London (TfL) to "modernize" the metro service, a process that would result in the loss of 950 jobs, as well as the closure of ticket offices, which is something the striking unions say will negatively impact passenger and staff safety, according to the Guardian.
It was decided after London Mayor Boris Johnson refused to accept union demands to postpone the job losses and negotiate directly as a way to avoid going on strike.
'All Strike Together' says the banner. Edgware Rd picket puts that into practice #tubestrikepic.twitter.com/HMhkY1WfCl

— NSSN (@NSSN_AntiCuts) February 6, 2014
The action is due to end at 21:30 London time on Thursday evening, but the situation is growing more complicated with every minute. There are now reports that dangerous overcrowding at certain stations has led to their closure, while the striking unions have recommended a safety inquiry.
At this time only a third of the services are running, serving a fraction of stations across eight lines, while the Bakerloo, Circle, Waterloo and City lines were closed – although the latter has reopened now and was running in both directions as of Thursday morning.
As of 08:48 GMT, BBC Travel said that above-ground delays and road congestion have also risen dramatically, with cars and buses piling up in several central locations, as people look for alternate routes to get to work. The problem of underground delays is further compounded by overcrowding and subsequent station closures.
Taxi services are reporting higher demand than on New Year's Eve.
True definition of insanity. Going to #FinsburyPark at 7am again & expecting it be open. #tubestrikepic.twitter.com/r41b2noNgP

— Tim Robinson (@RAeSTimR) February 6, 2014
Bob Crow – a union leader and General Secretary of the National Union of RMT Workers, told the Guardian he sees the results of the strike as "rock solid," while being "simply a reflection of the staff anger at attempts to bulldoze through cuts to jobs, services and safety which would reduce the Tube to a dangerous, hollowed-out shell."
This, however, does not stop some elements of the British government from pushing to instill harsher strike laws and punishment, as well as declare the underground an 'essential service.' Some of the politicians who denounce the action include Prime Minister David Cameron, Labour leader Ed Miliband, Mayor Boris Johnson and others.
Johnson would also reportedly like to introduce minimum service agreement laws, meaning workers would have to sign one before being allowed to sign up for industrial action.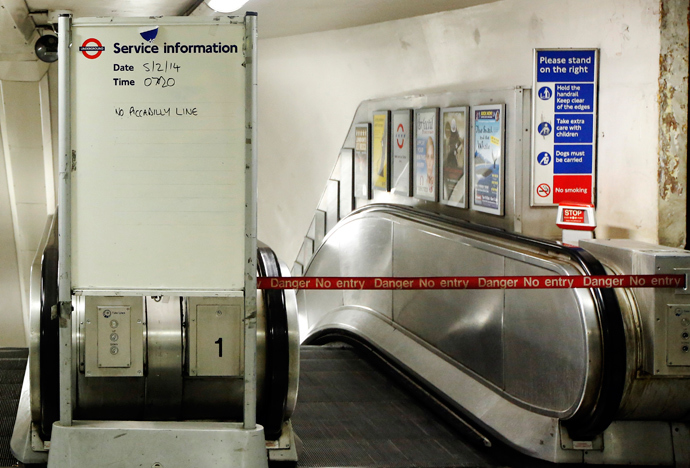 The mayor, who has been outside Embankment Station this morning giving interviews, has wondered what the problem is and why the unions will not negotiate. Bob Crow responded by saying, "He wants services on Friday and Saturday night - are you telling me you're going to run trains with people boozed off their minds and you're going to take 1,000 staff out of the system and that's safe?"
Some other proposals by the Conservative government include the idea that strikes must result out of an absolute majority decision by a union, as opposed to a majority amongst only those who vote.
The situation with the staff is currently that 450 of them have agreed to apply for voluntary redundancy. Of the 953 jobs that are due for termination, 200 could still find themselves on the new all-night weekend shifts coming up.
Businesses predict that this strike, as well as a two-day strike planned for next Wednesday, will run the government tens of millions of pounds.
You can share this story on social media: