NYC commuters face chaos as burst water main disrupts subway, closes streets (PHOTOS)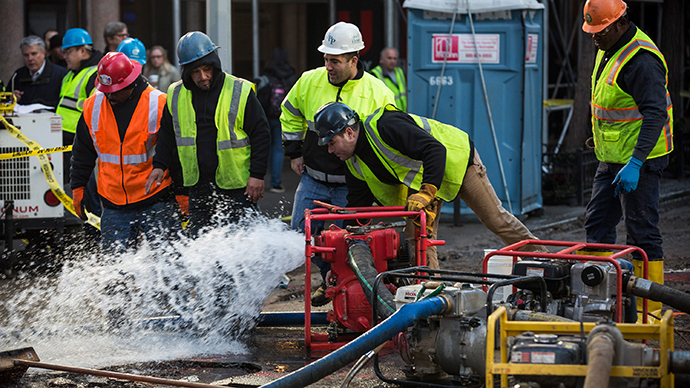 A 137-year-old water pipe burst in New York's Greenwich Village in the wee hours of Wednesday morning, throwing morning travel plans into disarray. Ten subway lines reported delays, and services started reactivating later Wednesday.
The break happened at around 12:17am and lasted for several hours. On 5th Avenue, at 7am local time, construction workers began frantically digging up the road to resolve the problem. Some 60 Fire Department officers had to respond to the crisis, officials reported.

"The water was coming from all over," an unnamed Fire Department employee told New York Daily News. "I had to get out. … The whole place is filled." Basements were flooded, with the depth in Central Parking garage – where some 60 cars were parked – reaching at least five feet. Several subway lines swamped with delays, and roads closed.

It took four hours to shut off water flow to the appropriate pipes and stem the flooding, The New York Times reported.
Subway service restored w. residual delays from #watermain. DEP Commissioner Roberts says repairs to the road may take another day or two

— GVCCC (@GVCChamber) January 15, 2014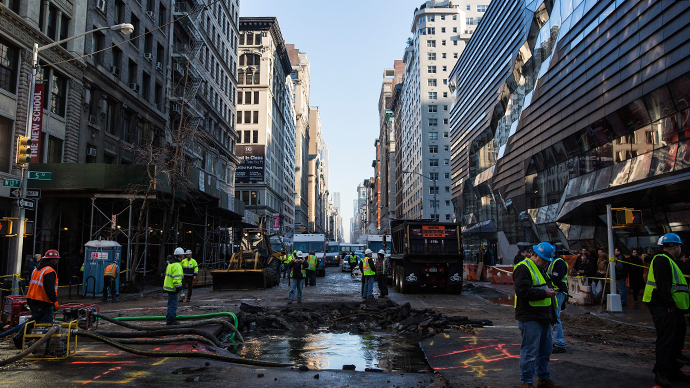 Several subway lines were rerouted and street closures were put into effect on parts of Fifth Avenue and E. 13th and 14th streets. "W 4 St-Washington Square, B Subway Line Icon, D Subway Line Icon, F Subway Line Icon, M Subway Line Icon, N Subway Line Icon & Q Subway Line Icon train service has resumed with delays," the Metropolitan Transportation Authority said. The C service was also included in a separate statement.

Crews working portable pumps were deployed in order to draw water from the underground tracks.
#SubwayNews: Crews working portable pumps evacuating water from tracks near W.4th St after water main break this m http://t.co/vvyUmZ9UvF

— NYCT Subway Service (@NYCTSubwayScoop) January 15, 2014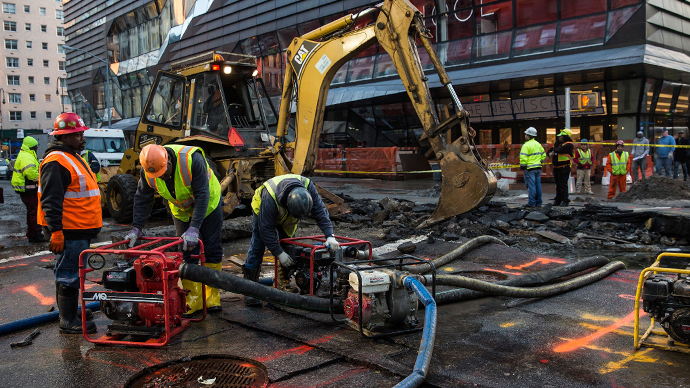 In addition to water seeping into the subway transit system, the basements of the New School and several apartments flooded. "The entire basement and garage is totally full [of water]," one building manager, Bill Bissell, told the Pix11 network. He stated that all of the cars, his own included, had been ruined.

The Department of Environmental Protection said that the cast iron pipe – which dates back to 1877 – may have buckled from age.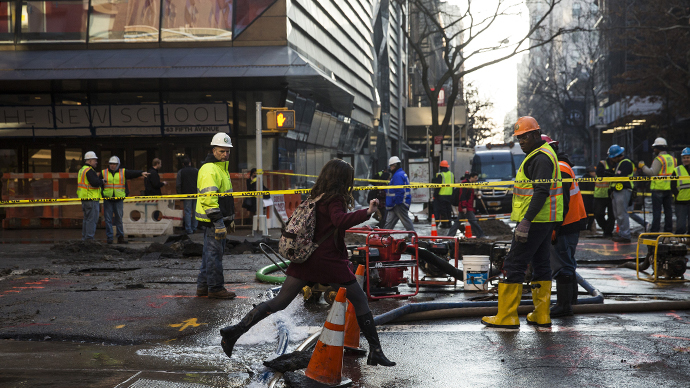 Contributing to public confusion was the intense fog which swept through the city on Wednesday morning. One Twitter user said that they were "having #DoctorWho feels," while another commented that: "Water main break=my train is stuck on the Manhattan Bridge. It's sunny out but the bridge is surrounded in thick fog. The city has vanished".
Probably the best picture yet of this mornings fog in NYC, again via @earthcam. Incredible! pic.twitter.com/CbCicbveXK

— NY Metro Weather (@nymetrowx) January 15, 2014
Just when you thought you had seen the best fog photo from NYC this morning, we have this. Via amtraver (Instagram). pic.twitter.com/AgZwICRpv6

— NY Metro Weather (@nymetrowx) January 15, 2014

You can share this story on social media: