​US arms flow into Syria could create Somali-style warlords – rebel leader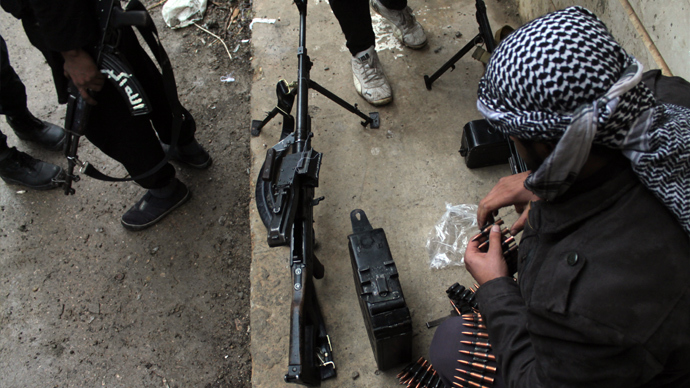 The wanton arming of Syrian rebels by the United States undermines Washington's allies in the country's civil war and could lead to a warlord system similar to that of Somalia in years to come, a Free Syrian Army leader has warned.
Brigadier General Abdelilah Al-Bashir – who led opposition forces of the Free Syrian Army (FSA) before becoming chief-of-staff of the FSA's Supreme Military Council (SMC) in February – told Reuters that Washington has avoided the SMC in routing weapons straight to various rebel groups often out of the FSA's control.
"The Americans are leading the distribution of weapons on the northern front and in the southern front. We demand that we be responsible," said Bashir, who defected from Syrian military in 2012.
"Providing support to individual battalions could turn the commanders of these battalions into warlords and they will be difficult to control in future," he added. "This could turn Syria into Afghanistan or Somalia."
His comments track closely with those of former UN envoy Lakhdar Brahimi, who recently likened the situation in Syria to those countries and said he was afraid there could be "warlords all over the place."
In response to Bashir, the US State Department said that military aid is given to "moderate, vetted groups...in coordination with" the SMC.
While US supplies offered to rebels fighting Syrian President Bashar Assad's government are officially called "non-lethal" – as in radios and trucks – US officials have acknowledged that small arms and anti-tank missiles are included.
Bashir, whose group has been called ineffective by the disparate opposition groups in Syria, said Washington started bypassing the SMC after the organization lost an arms shipment to Islamists in December.
The commander wants the US to offer anti-aircraft weapons to the SMC, which, he said, would allow opposition fighters to reverse the tide in the war that has raged since 2011.
But the US and its allies are supposedly reticent about who they arm within rebel circles, as many anti-Western Islamists are among the forces fighting Assad's military.
A US State Department official told Reuters that President Barack Obama is committed to offering more support to rebels, with the SMC as part of that process.
"As part of the State Department's provision of non-lethal assistance to moderate, vetted groups, we regularly meet and engage with the SMC and Bashir," the official said. "We are stepping up the pace of deliveries of non-lethal assistance to Free Syrian Army commanders in coordination with the SMC."
You can share this story on social media: