Jihadist activity up 50% in last 3 years, presents threat to US – report
Published time: 6 Jun, 2014 02:06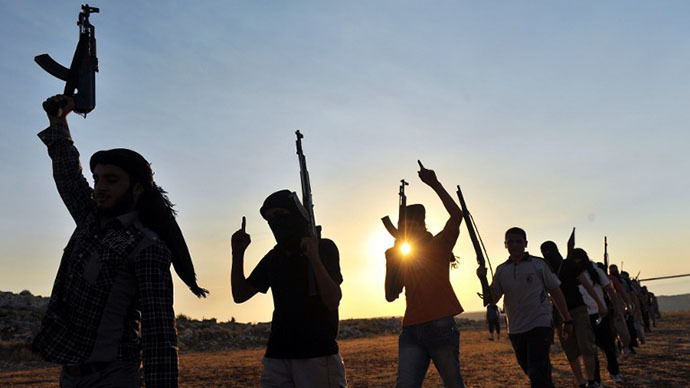 International jihadist activity has increased by more than 50 percent over the past three years, with the growing number of extremists becoming increasingly vigilant and creating a greater threat to the US, according to a new report.
The report was published Thursday by the Rand Corporation, a nonprofit think tank funded with money from the US government and outside private corporations.
Researchers assembled the study using public data, leading to what the Wall Street Journal described as a "global census of Al-Qaeda and related groups," with the Syrian civil war identified as the largest cause of the sudden growth. Approximately half of the militants identified in the study, which examined radical activity all over the world, are located in Syria.
"It's become a breeding ground for jihadist activity," said Seth Jones, the author of the report and an associate director of Rand's International Security and Defense Policy Center. "Based on these threats, the United States cannot afford to withdraw or remain disengaged from key parts of North Africa, the Middle East, and South Asia."
The report stipulates that Syrian extremists have sought to convince the West to provide resources that would make it easier for insurgents on the ground to launch attacks in and around Syria. The warning comes after an American killed himself in a suicide attack last week and US President Obama said in a speech to West Point military academy that the US would deepen its tie with the Syrian opposition in the coming months.
Jones, quoted in a Rand statement to the press, advised the US and its allies to take a "more adaptive" approach to counterterrorism that uses increased diplomacy, special forces, and intelligence work "to conduct precision targeting of these groups and their financial, logistical and political support networks – where there is a high threat to the US and a low local government capacity."
US National Security Council spokeswoman Caitlin Hayden refused to comment to the Journal on the specifics of the report, only referring to Obama's speech in which he said "US military action cannot be the only – or even primary – component of our leadership in every instance."
The report, while admitting that it is difficult to gauge exactly how many groups operate in unstable regions, said that jihadist group membership jumped from between 12,945 and 47,810 in 2010 to between 45,510 and 105,510 in 2013.
Part of the reason for that boom, along with the terrible events in Syria, is the success Al-Qaeda has found elsewhere in the Middle East. According to the report terrorist groups in Afghanistan, Pakistan, Syria, and Yemen pose the most serious threat to the US.
However Tufts University professor of international politics Daniel Drezner wrote in the Washington Post that the report's findings were flawed in part because no context was given for what the appropriate number of extremist groups would be, and also because it seems to engage in fear-mongering.
"I'm not seeing all that elevated of a threat to the United States homeland – which is what most readers will infer from that headline," he wrote. "These groups seem far more concerned about local politics rather than world politics. It's certainly more accurate to say that these groups threaten 'US interests in the Middle East,' rather than just, 'the United States.' But the latter is definitely more eye-catching."