No country could willingly say 'no' to energy cooperation with Russia - Putin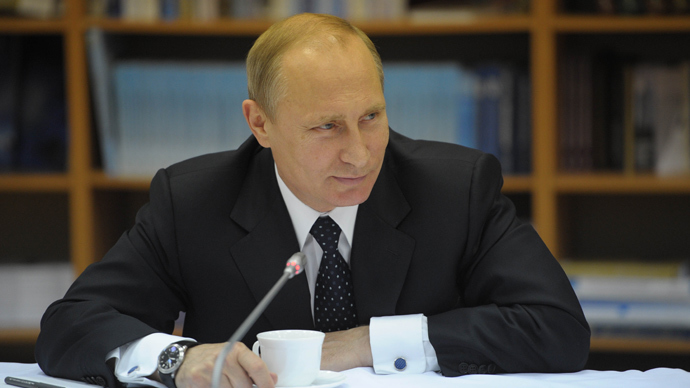 No country could voluntarily refuse energy cooperation with Russia, the country's President Vladimir Putin has said amid speculation concerning the future of the South Stream gas project.
"Nobody could voluntarily refuse energy cooperation with Russia," Putin said Monday during a meeting with students in the northern Russian city of Arkhangelsk.
"The situation is always complex," Putin stated, adding that things are only calm when "humanitarian aid is being sent to Russia," but as soon as Russia gets stronger then the situation becomes more complicated.
"We will always cooperate, and others will cooperate with us, even actively cooperate, I have no doubt about that," Putin noted.
He added that global interest in Russia's Arctic reserves is immense. "Without exaggeration it can be said that mankind will be forced to turn to these reserves, which means we will be working together. We are not turning anyone away and are actively cooperating."
Putin's comments come after Sunday's announcement that Bulgaria's premier Plamen Oresharski ordered a halt to the Russian Gazprom-led South Stream gas project, which faces pressure from the EU.
Russia's Foreign Minister Sergey Lavrov also commented on the issue Monday, stating the EU is guided by a desire to punish Russia instead of protecting economic interests of its member-states when it comes to the South Stream gas project.
"Recently we heard from Brussels that negotiations around South Stream will be halted until Russia recognizes the Ukrainian authorities. Do you think that is constructive?" Lavrov said during a press conference with Finnish Foreign Minister Erkki Tuomioja.
"Brussels is guided by a desire to punish, to revenge, but not by the natural desire to protect natural, legitimate, economic and other interests of its member states through the central EU bodies," Lavrov stated.
Meanwhile Bulgaria's Energy Minister Dragomir Stoynev said Monday the South Stream gas pipeline was irreversible.
"If we look at this situation strategically, not emotionally, it will be clear that the South Stream project can't be canceled. It's equally important for Europe and Bulgaria," Stoynev said. "I'm convinced that all the issues currently on the table will be solved."
In order for South Stream to operate it needs approval from the EU, which is trying to stall the project until Gazprom complies with Europe's Third Energy Package. In Europe, pipelines can't be owned and operated by the same company, and according to the law Gazprom can only hold 50 per cent of the project.
Gazprom's $45 billion South Stream project, scheduled to open in 2018 and deliver 64 billion cubic meters of natural gas to Europe, is a strategy for Russia to bypass politically unstable Ukraine as a transit country, and help ensure the reliability of gas supplies to Europe.
You can share this story on social media: