Politkovskaya murder: Mastermind & killer sentenced to life
Published time: 9 Jun, 2014 08:09
Edited time: 9 Jun, 2014 10:20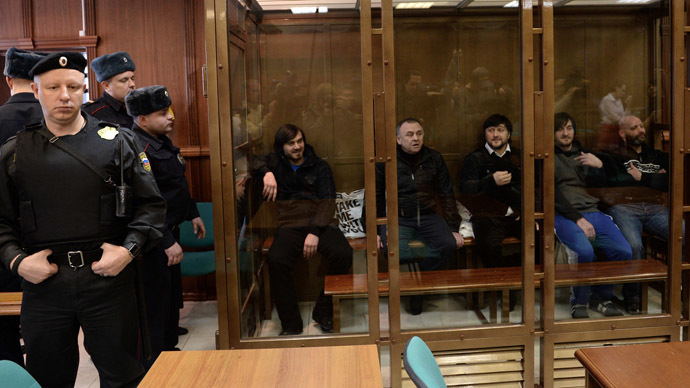 A Moscow court has sentenced five people to prison terms of up to life for the 2006 murder of investigative journalist Anna Politkovskaya. Earlier, a jury found all the defendants guilty and said four of them did not deserve clemency.
Politkovskaya was murdered on October 7, 2006, as she entered the apartment building where she lived in central Moscow.
On Monday, the Moscow City Court announced the sentences for the killers. It sided with the prosecution to hand down a life sentence to ringleaderLom-Ali Gaitukaev, and hisnephewRustam Makhmudov, the man who pulled the trigger.
Gaitukaev, is already serving a 2008-imposed 15 year jail sentence for organizing a separate contract killing.
Other gang members, Makhmudov's brothers Ibragim and Dzhabarail, were sentenced to 12 and 14 years in jail, respectively. Both helped track Politkovskaya on the day of her murder. She was shot on her return from shopping for groceries at a supermarket.
The last convict, Sergey Khadzhikurbanov, was given a sentence of 20 years for serving as a middleman in the crime.
Earlier, another man linked to the murder wassentencedto 11 years after accepting a plea bargain. Dmitry Pavlyuchenkov used his position as a police officer to establish surveillance over Politkovskaya's movements. He testified against his accomplices at the trial.
Three of the convicts were already tried for the same crime and acquitted in February 2009 due to lack of evidence. But Russia's Supreme Court backed a request by prosecutors and ordered a re-trial in August of the same year.
Politkovskaya was a prominent investigative journalist and human rights activist, who covered extensively the turbulent Russia's Chechen Republic. Her death was a high profile event, which many critics of Russia used as an example of the country's failure to provide security to the media.
The question remains of who actually paid Gaitukaev for the hit, as Politkovskaya made a lot of enemies through her journalistic work.