Politkovskaya murder suspect shot in assassination attempt
Published time: 15 Aug, 2013 19:10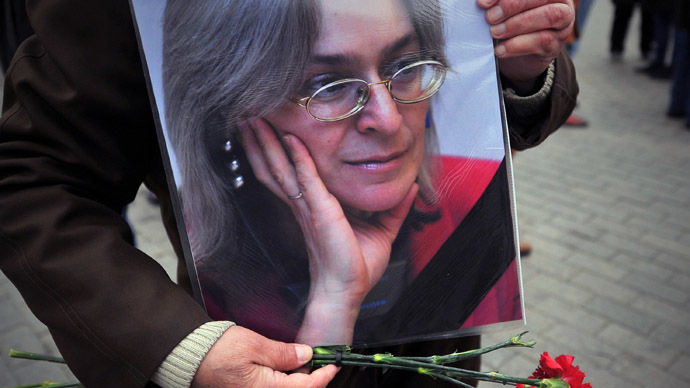 Prosecutors push to move the Dzhabrail Makhmudov case into a separate proceeding after the suspect in the murder of prominent Russian journalist, Anna Politkovskaya, sustained a gunshot wound in an alleged assassination attempt.
Makhmudov was brought to Moscow's Botkin hospital at around 23:00 MSK on Wednesday. He was treated by the doctors and currently remains in stable condition.  

"An assassination attempt was made on the life of my client," Murad Musaev, Makhmudov's lawyer, wrote on his Facebook page. "He was wounded by a firearm and just underwent surgery. The shooter, the number of shots made and the weapon used aren't established yet."

According to the lawyer, the bullet hit Makhmudov in the left thigh and went right through "just a millimeter away from the femoral artery."

"The doctors said Dzhabrail was 'damn lucky'. If there was a half-degree shift in the bullet's direction it might've well cost him his life," Musaev added.

The injury prevented Makhmudov from arriving at the Moscow court for the Politkovskaya murder case hearings on Thursday.

This allowed the prosecution to ask the judge to suspend the case against Makhmudov as "a gunshot wound means that it's a serious wound."

Makhmudov's lawyer spoke out against the move as the delay puts his client at a disadvantage, promising that the defendant will be able to return to court on crutches within a week.

The decision on the issue will be made on August 19 after the court receives information of Makhmudov's condition and approximate date of his recovery from the medics at the Botkin hospital.


Investigative journalist, Anna Politkovskaya, who worked for opposition-minded Novaya Gazeta newspaper, was shot at the entrance of her Moscow apartment building on October 7, 2006.

The investigators believe the journalist's assassination was linked to her work as she was famous for writing about human rights abuses in Russia's Republic of Chechnya.

Dzhabrail Makhmudov is named in the case together with his two brothers Rustam and Ibrahim, his uncle Lom-Ali Gaitukaev and ex-police officer Sergey Khadzhikurbanov.

The investigators believe that Gaitukaev, who is sentenced 15 year in prison for a different crime, and Khadzhikurbanov were the organizers of the killing, with Rustam Makhmudov acting as the executor.

Dzhabrail Makhmudov allegedly kept tabs on Politkovskaya together with brother Ibrahim and also drove the suspected murderer away from the crime scene.

Another person involved in the case – former law enforcement officer Dmitry Pavlyuchenkov – was sentenced to 11 years behind bars in this March after admitting to tracking the journalist and providing the suspected murderer with a gun.  

The police have failed to establish the name of the person or organization, which ordered Politkovskaya's killing.   

The Makhmudov brothers, Gaitukaev and Khadzhikurbanov have been already tried in the same case back in 2009 and were found not guilty.

But several months later the acquittal the verdict was annulled, and the case was sent back for retrial.