Ex-police officer sentenced to 11 years in jail for involvement in murder of Politkovskaya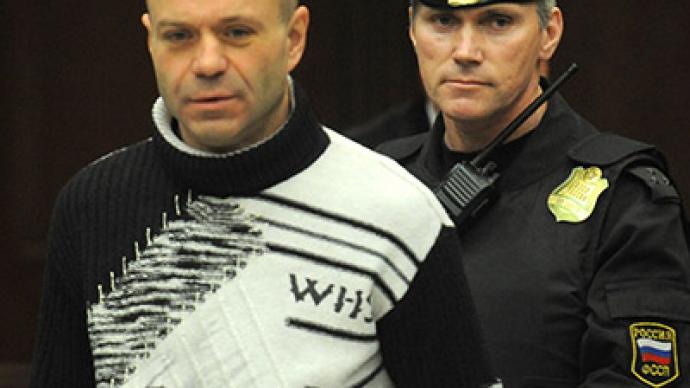 Former police officer Dmitry Pavlyuchenkov was found guilty of involvement in the murder of journalist Anna Politkovskaya and faces 11 years in a maximum security penal colony, ruled a Moscow Court.
Pavlyuchenkov has also been ordered to pay almost $100,000 in damages to the victim's family.The ex-officer pleaded guilty to the charges of accessory to murder and possessing an illegal firearm, meaning he could not be given more than two thirds of the maximum jail sentence under Russian law.The court ruled that Pavlyuchenkov's jail sentence already began on August 23 2011, and as such he would spend only nine years and eight months in the penal colony. The prosecution had been pushing for 12 years incarceration for the former officer.Pavlyuchenkov's lawyer appealed to the court for a suspended sentence, drawing the judge's attention to the fact his defendant had shown remorse and apologized to Politkovskaya's family. Additionally, she said that the former officer has on-going health issues.Politkovskaya was murdered in the lift of her apartment block in Moscow on October 7 2006. Working as a journalist for the Russian publication Novaya Gazeta., she extensively covered human rights issues in Chechnya.After examining the evidence the court came to the conclusion that Pavlyuchenkov acted as an accomplice along with suspects Lom-Ali Gaitukaev, ex-officer Sergey Khadzhikurbanov, Ibragim Makhmud, Dzhabrail Makhmud and Rustam Makhmud in Politkovskaya's murder.The court believes that Pavlyuchenkov received $150,000 as payment from Gaitukaev to act as an informer for the criminal group, observing Politkovskaya's movements and daily routine. He also purchased the firearm with which the murder was committed.Politkovskaya's family has been insisting on the maximal possible punishment for Pavlyuchenkov from the outset of the trial. Friday's ruling subsequently did not leave them satisfied, and they plan to protest the sentence."We will for sure protest the court's treatment of this case as we did not agree when the judges gave it a special status after Pavlyuchenkov agreed to collaborate with the investigation. We cannot find that Pavlyuchenkov has met the conditions of the plea bargain, particularly, he never named the person who ordered the murder and did not detail his own role in the crime," Anna Savitskaya, the lawyers for Politkovskaya's family, told Interfax.
You can share this story on social media: