Solar-powered aircraft makes inaugural flight (VIDEO)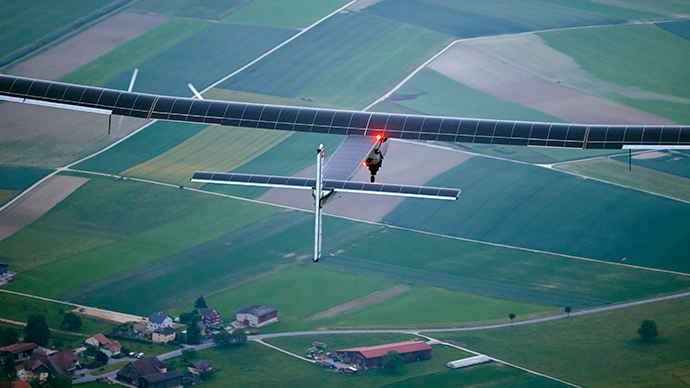 Ahead of its anticipated round-the-world trip scheduled for 2015, a solar-powered plane took its maiden voyage after an historic two-hour flight - yet more headway in developing aircraft that don't need fossil fuel.
The Solar Impulse 2 aircraft, with German test pilot Markus Scherdel inside the cockpit, took off from an airfield in Payerne, Switzerland at 03:35 GMT (04:35 BST; 05:35 CEST), climbing to just over 6,000ft (1,800m).
The carbon-fiber aircraft, which was first displayed to the public on April 9, has a wingspan of 72 meters (236 ft) - wider than a Boeing 747 jumbo jet – and weighs just 2.4 tons. It contains more than 17,000 solar cells inserted on top of the wings, which allow the vehicle to achieve a maximum speed of 140km/h (90mph).
Scherdel reported some early vibrations inside the aircraft, but overall the inaugural test flight was considered a success, with the plane performing a number of maneuvers to prove aircraft handling.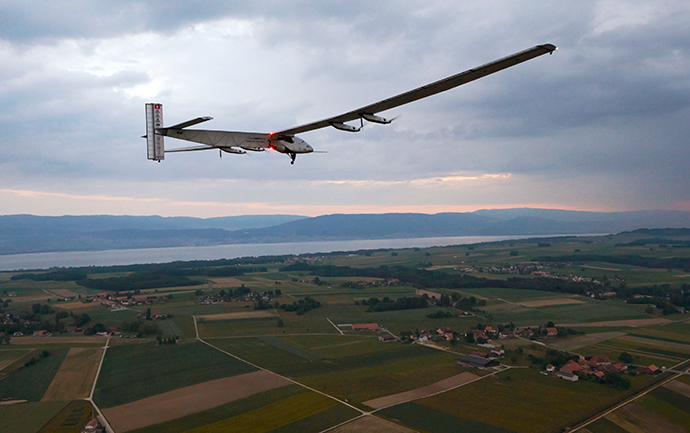 The Solar Impulse 2 is a larger, improved version of the aircraft that flew across the United States last year with pilots Bertrand Piccard and Andre Borschberg at the controls.
"It's a great day for all the team of Solar Impulse," Piccard told BBC News.
"An airplane like this is absolutely unique. And for the first time in history, we have an airplane that is flying with no fuel day and night, showing the incredible potential of the clean technologies - all these technologies that the world can also use in order to reduce the dependency to fossil fuel and to be cleaner and solve a lot of problems of pollution," Piccard added.
During the day, the solar cells will recharge lithium batteries, which can then be used to keep the plane's propellers turning through the night.
The original Solar Impulse set several world records, including the longest manned solar-powered flight at 26 hours, as well as the greatest distance covered on a piloted solar-powered flight (Pilot-less solar-powered vehicles can stay in the air for weeks at a time).
Although the team of Solar Impulse 2 is celebrating its maiden voyage, next year's planned flight around the world – which will require several weeks' to accomplish – will present a far greater challenge.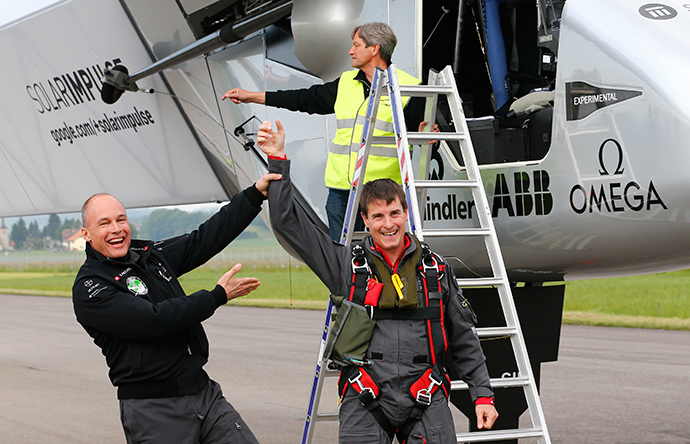 You can share this story on social media: