Over 30 killed in series of attacks on pilgrims in Iraq capital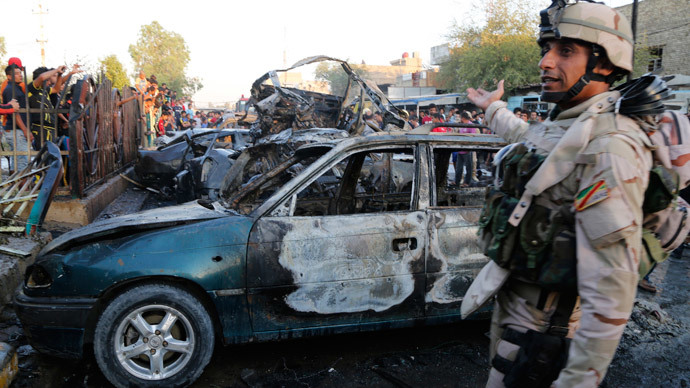 At least 32 people were killed in three attacks on Shiite Muslim pilgrims in Baghdad on Thursday ahead of a major religious holiday, Reuters reports citing police and medical sources.
In eastern Baghdad, a mini-bus approached a crowd of pilgrims near Tayaran Square and blew up leaving 14 people dead.
In Mansour, the capital's western neighborhood, a parked car exploded, killing six. Another bomb detonated in a parked vehicle in the capital's east, also hitting a group of pilgrims. At least 12 people died in that attack.
Pilgrims have been flocking to the shrine of Imam Kadhim, the seventh of 12 revered imams in Shiite Islam, in western Baghdad to commemorate the death of the saint in 799. The two-day rituals are due to climax on Saturday and Sunday.
The attacks came despite a shutdown of major roadways and ban on certain vehicles ordered for the holiday.
No group has claimed responsibility for the attacks.
However, relations between Sunni and Shiite's in Iraq have increasingly been souring, in part due to the conflict in neighboring Syria, which has attracted fighters from both sides of the sectarian divide to engage in the broader regional proxy war. This, coupled with internal tensions between the two dominant denominations in Islam, has led to the deadliest wave of violence to strike Iraq in six years.
The bombings come three days after the preliminary results of Iraq's April election were out confirming Prime Minister Nuri Maliki as the frontrunner heading for a third consecutive term.
Iraq has been torn by a new wave of violent attacks since April 2013, with the numbers of dead jumping to its highest levels since the worst of the country's sectarian bloodshed in 2006-2008.
Over 8,800 people were killed in 2013, and 1,666 people died in the first three months of 2014 due to terrorist attacks or other acts of violence, according to UN statistics. Last month saw over 1,000 fatalities with 750 of them coming through terrorist attacks.
You can share this story on social media: