​Suicide bombers kill at least 50 across Iraq ahead of general election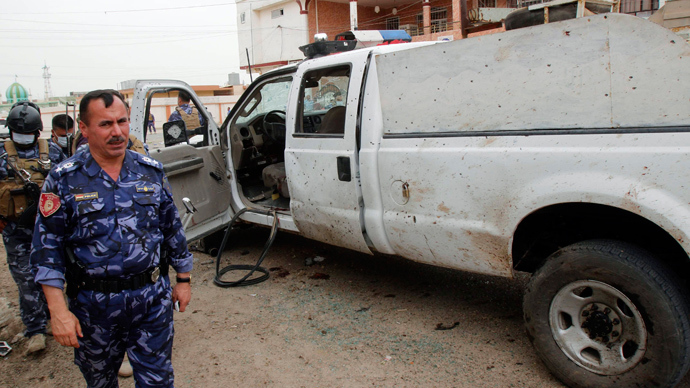 At least 50 people across Iraq were killed on Monday by suicide attackers and militants dressed as security force members, as the country prepares to vote in the fourth national election since the Saddam Hussein's ouster in 2003.
A suicide bomber killed at least 30 people and wounded at least 50 others at a Kurdish political really in Khanaqin, 100 miles (140 km) northeast of Baghdad, Reuters reported.
The gathering included a television broadcast of Iraqi President Jalal Talabani – a Kurd who voted from Germany where he is undergoing medical treatment associated with a stroke he suffered in 2012.
"The attacker snuck among the crowds near the Patriotic Union of Kurdistan's headquarters and blew himself up, causing a tragic massacre," according to one police officer, who said his brother was killed in the incident.
Elsewhere, Sunni Muslim militants disguised in army and police uniforms attacked polling centers around Baghdad and northern Iraq. Iraqi soldiers and security force members were out to cast ballots Monday ahead of the general election on Wednesday.
In the western Mansour district of Baghdad, six police were killed and 16 others were wounded when a suicide attacker dressed as a police officer detonated explosives near the entrance of a school used as a polling place, according to police and medical sources.
In Adhamiya, an east-central district of Baghdad, a suicide bomber killed four soldiers and wounded seven at a polling place.
Prime Minister Nouri Al-Maliki is running for a third term in the election, though he faces violent opposition amid political opponents seeking to reclaim power from the Shiite-dominated government.
A leading source of aggression against the government comes from the Islamic State of Iraq and the Levant (ISIL), formerly associated with Al Qaeda before ties were severed over ISIL's rogue actions. ISIL has fought for control over western Anbar province with their sights set on the capital, Baghdad.
ISIL has threatened other Sunnis in Iraq with death should they vote in the upcoming election. In northern Iraq, where ISIL has fought vigorously against security forces, at least 10 police officers were killed.
In Tuz Khurmatu, 55 miles (89 km) south of the northern city of Kirkuk, a suicide attacker in a police uniform killed three policemen and wounded nine near a polling station, police said. Sunni fighters have attacked the area many times, as it is home to the Shiite Turkmen minority.
In Kirkuk, another bomber in a police uniform killed six police near a voting outlet.
In Hawija, 40 miles (70 km) southwest of Kirkuk, one soldier was killed and four wounded by a suicide attacker in an army uniform near a polling center, police said.
A curfew is set to go into effect on Tuesday night before polls open for Iraqi citizens on Wednesday.
In the first three months of 2014, 1,666 civilians were killed from acts of terrorism or violence, according to the United Nations. The count does not include deaths among security force members. The numbers also don't count casualties in Anbar province, where accounting can be unreliable amid fierce violence and much bloodshed. That said, pending further investigation, UN sources estimate 156 civilians were killed in Anbar in March, with 741 injured.
You can share this story on social media: