Politkovskaya killer suspect delivered guilty verdict by jury
Published time: 20 May, 2014 19:12
Edited time: 20 May, 2014 22:45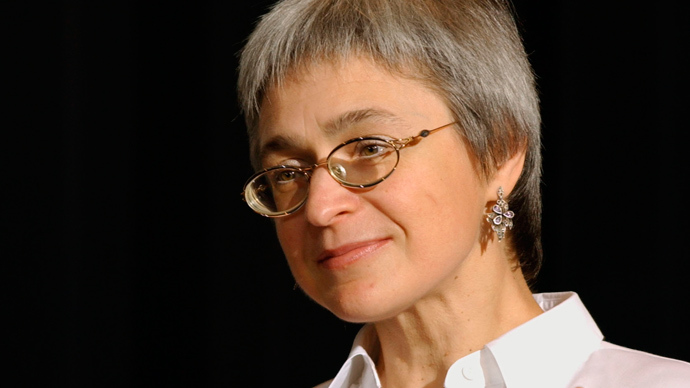 A Moscow city court jury has found five men guilty of taking part in the murder of Russian investigative journalist Anna Politkovskaya. One of the convicted men, a nephew of a Chechen crime lord, was named the reporter's killer.
The jury on Tuesday announced a guilty verdict for three Chechen brothers, Rustam, Ibragim and Dzhabrail Mahmudovs, their uncle Lom-Ali Gaytukayev and the ex-police officer Sergey Khadjikurbanov.
The panel also decided that the investigation presented convincing evidence of Rustam Mahmudov's role as the actual killer in the 2006 murder.
None of the suspects have pleaded guilty. Mahmudov has claimed that neither him, nor his brothers were complicit in the murder, while Khadjikurbanov has asserted that he was slandered by another figure in the case, ex-police colonel Dmitry Pavlyuchenkov, who earlier struck a deal with the investigation. Pavlyuchenkov, who was initially suspected of organizing the murder, was sentenced to 11 years in jail and was also obliged to pay nearly $100,000 in damages to Politkovskaya's family.
Gaytukayev, on the other hand, is already serving a 2008-imposed 15 year jail sentence for organizing a separate contract killing. He had become known as a crime boss for carrying out large-scale fraud in the early 1990-s, known as "Chechen letters of advice."
Three of the defendants were acquitted in February 2009 due to lack of evidence, but Russia's Supreme Court upheld the objection of the prosecution and ordered a new trial in August of the same year.
The investigators believe that Gaitukaev and Khadzhikurbanov were the organizers of the killing, with Rustam Makhmudov acting as the executor.
Politkovskaya worked for opposition-minded Novaya Gazetta newspaper and became famous for writing about human rights abuses in Russia's Republic of Chechnya. According to the investigators, the reporter's assassination was directly linked to her job. The journalist was shot at the entrance of her Moscow apartment building on October 7, 2006.
Politkovskaya's murder case has been surrounded by controversy, as the police have failed to establish the name of the person who ordered her killing. The journalist's criticism of the Russian authorities and armed forces has led to allegations that they could have been complicit in her murder – something President Vladimir Putin has denied as illogical. Others have alleged that the date of Politkovskaya's murder, which coincides with Putin's birthday, was deliberately picked as part of a smear campaign against the Russian government.