Hungary sends special forces unit to Ukraine after citizen 'kidnapped by gunmen'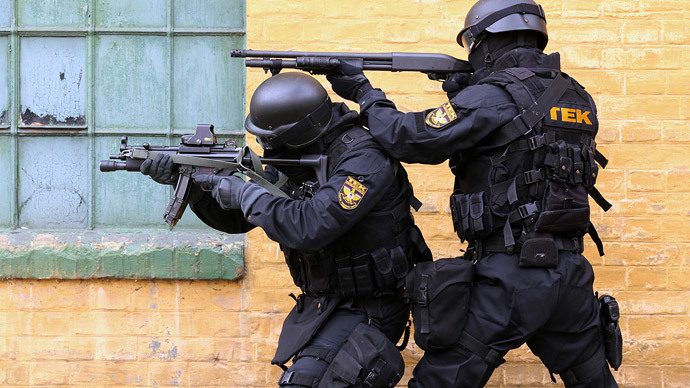 A special Hungarian counter-terrorist unit has been dispatched to Ukraine after Budapest learned a Hungarian citizen has been captured by unidentified armed men in Ukrainian "conflict zone," local media reports.
A special unit of Hungary's Counter-Terrorism Center (TEK) has arrived in an undisclosed area in Ukraine to try and free the captured Hungarian citizen, TEK's Director General, Janos Hajdu, told local ATV channel on Tuesday.

According to Hajdu, the man, who is working for a Ukrainian company, was doing his job driving a car with Hungarian plates somewhere in the "Ukrainian conflict zone," when he was stopped and detained by unknown gunmen. The incident took place after the driver "strayed to the wrong place," Hajdu said.

Although the circumstances have so far remained unclear, Hajdu said it did not appear to be a "classic" hostage-taking situation, as nobody has asked for ransom for the man. Citing operational channels, the Hungarian official said the man was in good condition but has been kept in detention by his captors.

In order to secure the release of the Hungarian, a special TEK unit was "immediately" sent to Ukraine under the existing Kiev's treaties with Hungary, a NATO, EU and OSCE member state. TEK has contacted relevant Ukrainian authorities and has been in constant touch with the Ukrainian Foreign Ministry, Hajdu told local MTI agency.

The official, however, refused to speculate on how long the special operation could last, saying it could take anything between hours and months.

Recently, it took one month and two days for Moscow to free a Russian girl trapped in the besieged eastern Ukrainian city of Slavyansk without her parents, who were denied entrance to the country. Eventually, Russian diplomats managed to get the girl out across the border in "an absolutely legal" way, according to Russia's ombudsman for children's rights, Pavel Astakhov.

Astakhov said the Kiev authorities have failed to comply with the Geneva Convention for the Protection of Civilian Persons in Time of War, adding that Moscow will address the UN and the European Council to remind Ukraine of its international obligations.

Two Russian reporters captured by Ukrainian National Guard in eastern Ukraine on Sunday continue to be detained by Kiev authorities, who accuse them of "aiding the terrorist groups," despite calls by the OSCE and Moscow to release the journalists. A Twitter campaign for the journalists' release under the hashtag #SaveOurGuys has been trending in Russian and Ukrainian Twitterspheres since its launch Monday.

On Tuesday, a UK journalist and RT contributor Graham Phillips said he was detained by the National Guard at a check point in south-eastern Ukraine. Phillips told RT he was being interrogated and contact has been lost ever since.