Turkey retains 3 suspects in custody out of 25 detained over deadly mining disaster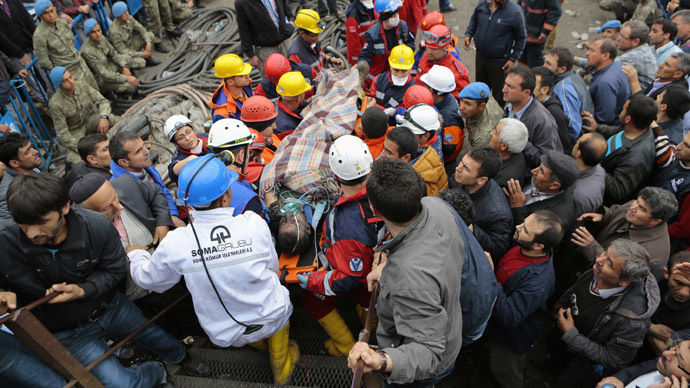 A Turkish court ruled to keep three suspects in custody on Sunday as part of the investigation into the mining disaster in Turkey's western town of Soma, which killed 301 people and triggered mass protests.
The individuals are being held on a provisional charge of "causing multiple deaths," Reuters reported. Media reports previously identified the three suspects as a plant manager and two mine engineers.
Twenty-five people were earlier detained. Six of those have been released but could later be charged. The interrogation of 16 others is still ongoing.
Several high ranking officials from the mining company – including operating manager Ramazan Dogru and chief engineer Akyn Celik – are reportedly among those being questioned. According to CNN Turk, 28 prosecutors were appointed to the investigation of Tuesday's tragedy, which is the worst industrial disaster ever to take place in the country.
Police cordoned off the area around the court house in Soma. A crowd of onlookers, journalists, and relatives gathered while prosecutors questioned company employees, a police official told Reuters.
"We know that we have lost 301 loved ones, but we have loved ones inside as well," said a man whose engineer brother was being held by police.
A spokeswoman for the mining company said she did not have information on the detentions.
Meanwhile, Soma was under complete lockdown on Sunday as police set up checkpoints on approach roads into the town. Only officials, rescuers, relatives of miners, and some journalists were allowed to pass through. Additional troops were deployed to the area from Istanbul, Ankara, Izmir, and Denizli, Harriyet reported.
The move came in response to mass protests that followed the deadly mining accident. On Friday, a protest rally ended in clashes between demonstrators and police, prompting local authorities to subsequently ban all rallies in the town.
Turkish authorities announced the final death toll at 301 after the last two bodies were pulled from the rubble of the stricken mine on Saturday. The news angered victims' friends and families who took to the streets in protest, alleging the government was holding back information.
The explosion at the Soma mine on May 13 and the ensuing fire left hundreds of workers trapped. Many of the deaths are believed to have been caused by asphyxiation, as the mine flooded with carbon monoxide following the initial blast.
Enraged protesters marched on Istanbul's Taksim Square on Saturday, demanding an explanation from the Turkish government over the tragedy. Riot police were deployed to block access to the square, using tear gas and water cannon to disperse activists.
Saturday's unrest was reportedly triggered by controversial arrests in the town of Soma, where a dozen people – including eight lawyers providing assistance to victims' families – were handcuffed. Many have criticized Turkish Prime Minister Tayyip Erdogan for being insensitive in his reaction to the tragic event.