245 dead in Turkey mine explosion, 120 trapped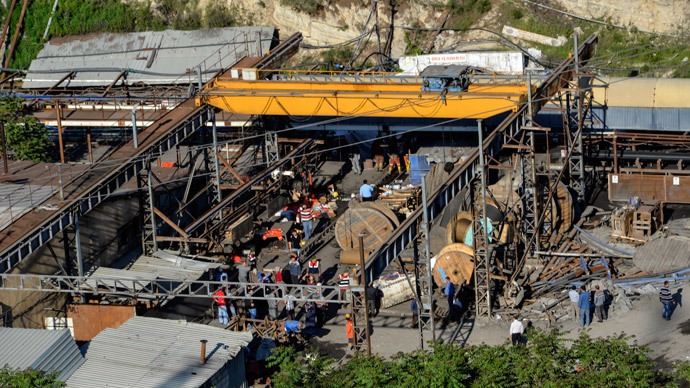 A mine explosion in western Turkey has killed 245 people, with 80 injured according to Energy Minister Taner Yildiz, and the toll could rise with many more still trapped.
Erdogan made an announcement declaring that 238 had been killed at a news conference during a visit to the western town of Soma – the location of the disaster – on Wednesday. He added that a further 120 workers remained trapped.
However, Yildiz later confirmed that the death toll had risen to 245, while adding that the fire had still not been fully extinguished.
Earlier in the day, Yildiz told reporters that 787 workers had been in the Soma mine when the explosion hit a power unit. Most of the confirmed dead were killed by carbon monoxide poisoning, Yildiz added.
Four of the injured were in a critical condition, according to Yildiz.
More than 360 workers have been evacuated thus far. However, Yidiz said that hopes for the rescue effort were "dimming". "We are worried that this death toll will rise," he told reporters.
"We fear that the numbers could rise further," he stated, adding that it was necessary to complete the rescue operation by dawn.
Rescue workers pumped oxygen into the mine in an attempt to keep trapped miners alive, Reuters reported. A line of police held back thousands of family and fellow workers of the trapped miners who assembled outside of a Soma hospital.
"Fresh air, oxygen is being pumped into the mine. This is the most important thing for our workers down there," Yildiz said.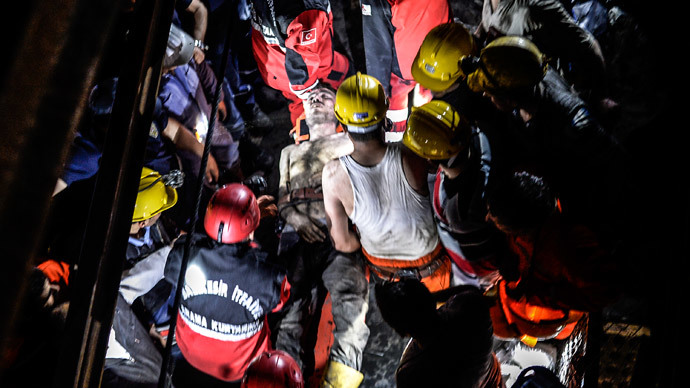 The mayor of Soma, a district in Manisa, also said the explosion was caused by an electrical fault, Reuters reported. The explosion, which occurred about 1.2 miles below the surface, reportedly disabled an elevator in the mine shaft. The workers are trapped some 2.5 miles from the exit.
Soma is 120 km (75 miles) northeast of the Aegean coastal city of Izmir.
Prime Minister Tayyip Erdogan cancelled a Wednesday trip to Albania in order to visit the site of the blast, his office told Reuters.
"Rescue efforts for our brothers in the mine are ongoing ... God willing, in the coming hours, I hope to receive uplifting news," Erdogan said Tuesday.
Turkey's worst mining disaster in recent years was a gas explosion in 1992 near the Black Sea port of Zonguldak, which left some 270 workers dead. Since then, Turkey has borne witness to several mining accidents.
You can share this story on social media: