Protests in Istanbul over Soma mine blast as death toll passes 300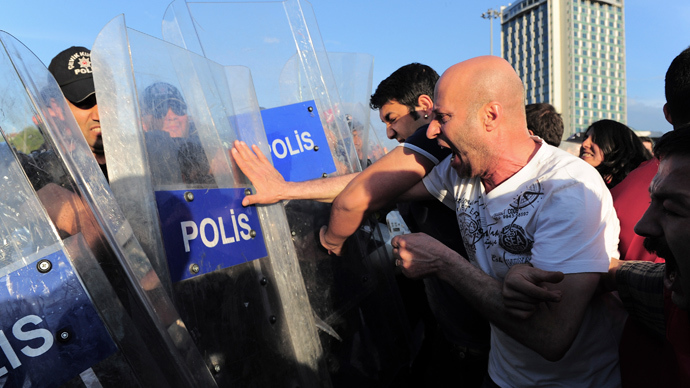 Clashes between protesters and police have erupted in Istanbul shortly after the bodies of the last two miners were recovered in western Turkey's Soma, bringing the final death toll from the country's worst ever mining disaster to 301.
Protesters, including members of the Lawyers Association, gathered in Istanbul on Saturday to demand an explanation from the government over the tragedy. As they marched to the city's famous Taksim Square, a line of riot police and two water cannons blocked the road, RT's Sarah Firth tweeted from the scene.
[VIDEO]: Water cannon deployed in #Istanbul just now http://t.co/ALSjJJL12v

— Sara Firth (@SaraFirth_RT) May 17, 2014
RT's crew was briefly detained by police while covering the demonstration.
We've been let go. Despite having our press credentials when asked earlier police detained us for a few hours pic.twitter.com/4MB5B6IKFU

— Sara Firth (@SaraFirth_RT) May 17, 2014
The unrest was reportedly sparked by controversial arrests in the town of Soma, where a dozen of people – including eight lawyers providing assistance to victims' families – were handcuffed earlier on Saturday. Although the lawyers were released shortly after, over 20 people remained in detention, according to Turkish newspaper Hurriyet.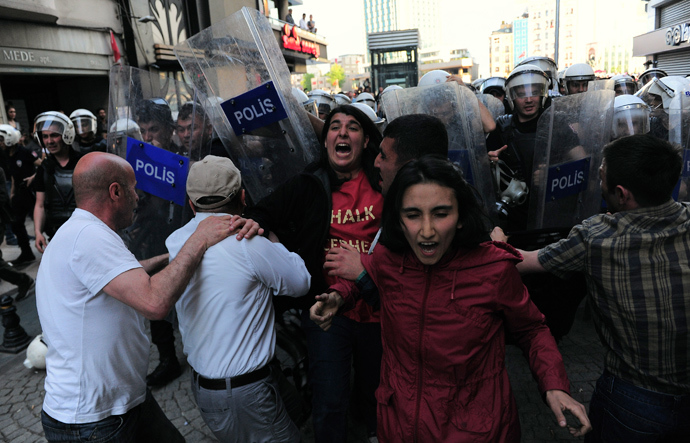 Hundreds of riot police patrolled the streets while others checked identity cards at three checkpoints on the approach road to Soma, a witness told Reuters. Local authorities banned all rallies in the town in response to Friday's protests over the mining tragedy, which ended in clashes between demonstrators and police. Those detained on Saturday were reportedly suspected of coming to the town to take part in more rallies.
In the wake of a national tragedy instead of empathy & explanation the Government have responded with TOMA & teargas pic.twitter.com/ZcFuTO6irx

— Sara Firth (@SaraFirth_RT) May 17, 2014

The bodies of two miners recovered on Saturday are believed to be the last remaining bodies in the mine following the deadly accident on May 13. They were discovered shortly after a new fire began at the site, hindering rescue efforts, Reuters reported.

It is believed that the mass deaths were primarily caused by carbon monoxide flooding the mine as a result of fire. The initial blaze began when an electrical unit at the mine exploded.

The exact cause of deaths will be revealed after autopsies, Energy Minister Taner Yildiz said. DNA tests will be performed for the identification of victims before the bodies are handed pver to families, he added, Hurriyet reported.

Demonstrations swept through Ankara, Istanbul, Izmir and Soma – the site of the disaster- with people smudging black on their faces in solidarity with the miners.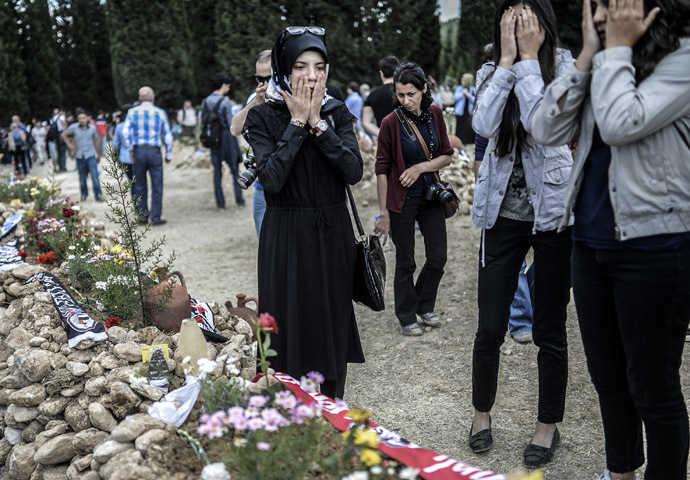 Rocks were hurled and anti-government slogans chanted – many blamed mine owners for eschewing health and safety guidelines for profit motives, and Prime Minister Tayyip Erdogan's government is regarded as being too close to industry bosses. Worker safety standards remain lax, and Turkey has borne witness to several industrial accidents.

Some banners in Soma read: "It was not an accident, it was murder." The night following the explosion, some 40 people were held in Izmir as barricades were constructed and fireworks thrown, according to Turkey's Hurriyet daily.

Erdogan additionally induced some anger when a man alleged that Erdogan's guards had beaten him on a visit to Soma. A photograph was leaked of an aide kicking a protester. Yalcin Akdogan, an adviser to the prime minister accused 'gang members' of provoking Erdogan's team.

Istanbul Technical University students also gathered in protest at their institution's links with Soma Holding executives. They stated protests would continue until any links were severed.