Violent protest clashes in Turkey after mine blast kills over 280 (PHOTOS)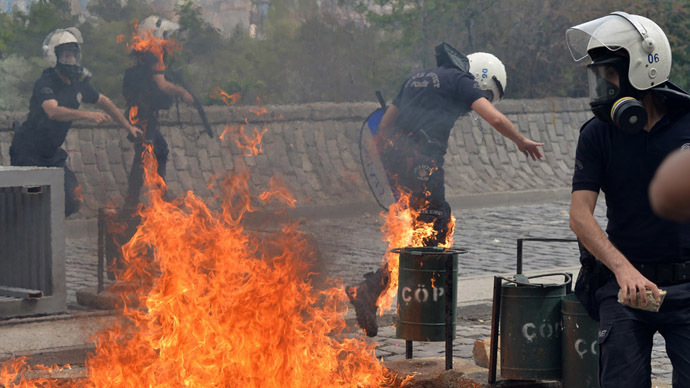 Clashes have erupted across Turkey as residents rally in anger at a mining accident which killed 282 people in the western Turkish town of Soma on Tuesday. Eight hundred marched on Ankara's Energy Ministry as police fired tear gas and water cannon.
Nearly 450 miners have been rescued in the efforts.
Violent protests have been reported in Soma itself, where relatives of the dead miners are unleashing their anger at Prime Minister Recep Tayyip Erdogan.
"Those who keep up with privatization... policies, who threaten workers' lives to reduce costs... are the culprits of the Soma massacre and they must be held accountable," Turkey's Public Workers Unions Confederation (KESK) said on its official website. The body is one of the major national trade union centers in the country, representing 240,000 employees.
Attacks on the Pm convoy. pic.twitter.com/foNy9zvx32

— Rumeysa (@rausie_) May 14, 2014
PM Erdogan visited Soma, the site of the disaster, on Wednesday. There, he was confronted with a spontaneous protest with locals booing and whistling at him as he made statements regarding the disaster at a news conference.
A relative of mine victim killed in #Soma disaster badly beaten by PM Erdogan's guards. @reportturk #BuAyıpSizeYeterpic.twitter.com/0x4HVOhFxG

— Abdullah Ayasun (@abyasun) May 14, 2014
Erdogan visited Soma, the site of the disaster, on Wednesday.
"We have witnessed one of the biggest industrial accidents in our recent history… We as a nation of 77 million are experiencing very great pain," he said at a news conference.
He promised that investigations will be launched into the accident, but he rejected claims that the government was to blame.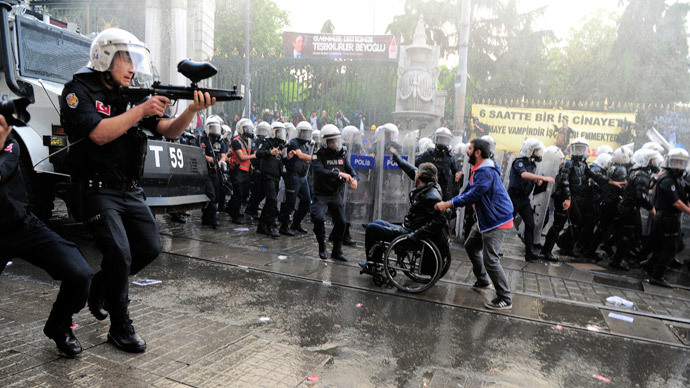 "Explosions like this in these mines happen all the time. It's not like these don't happen elsewhere in the world," he said.
Erdogan said that at least 120 might still be trapped. Reports from rescue workers on the scene say the figure could be higher, said AFP. Seven hundred and eighty-seven workers had been inside the Soma mine when the explosion hit a power unit.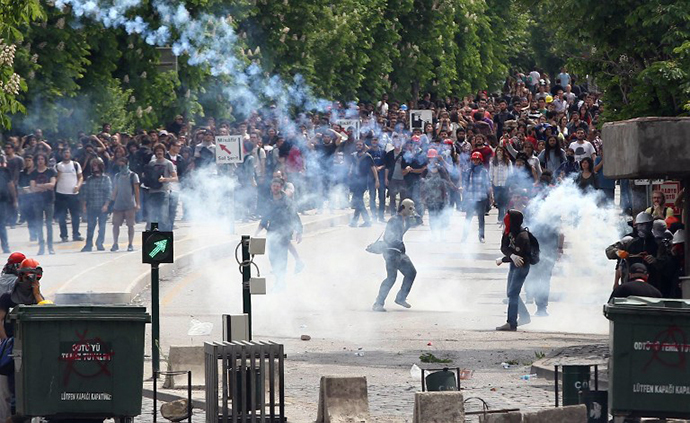 The PM was soon confronted by a spontaneous protest, with locals booing and whistling at him as he made statements regarding the disaster at a news conference. Some locals were chanting "Erdogan resign."
Erdogan was forced to shelter in a local supermarket to escape the enraged crowds.
LIVE: PM #Erdoğan was forced to seek refuge in supermarket as he faced more protests in #Somahttp://t.co/9DlDcH6Fmvpic.twitter.com/QKGqej6S3H

— Hurriyet Daily News (@HDNER) May 14, 2014
Rocks were thrown as crowd members accused the Turkish PM of being a murderer and a thief. Riot police used water cannon on the demonstrators as they approached the ruling AKP party headquarters.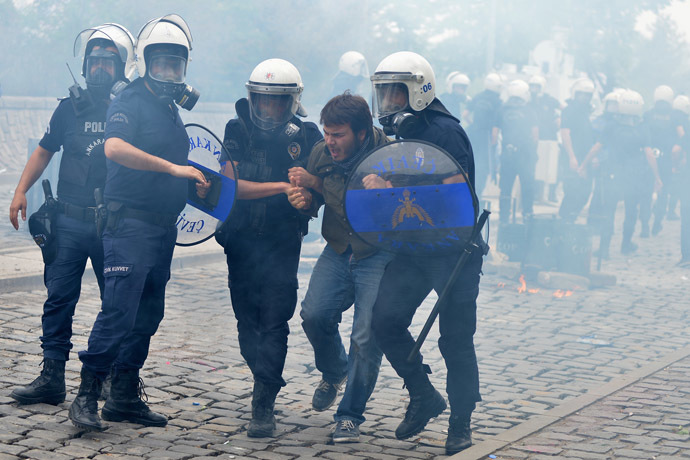 Clashes also erupted in Istanbul, 480km northeast of Soma where police fired tear gas and water cannon to disperse several thousand demonstrators. People were gathering in the city subway and outside the headquarters of the company which owns the mine. Graffiti alleging that the company had committed murder was daubed on the walls of the Soma Holdings office, while others painted their faces black in solidarity with the miners.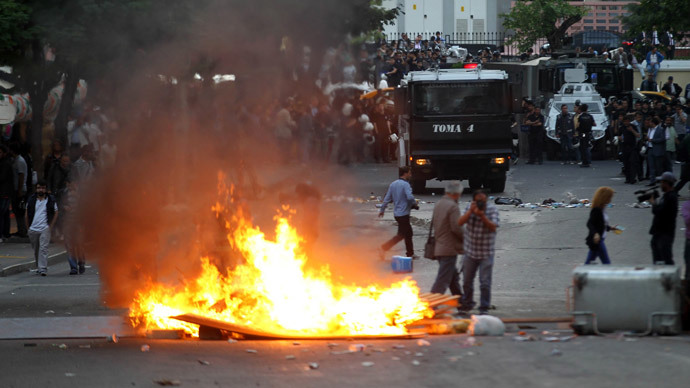 In Ankara, between 3,000 and 4,000 people marched on the energy ministry yelling anti-government slogans and hurling rocks. Law enforcers responded by deploying tear gas and water cannon against the protesters.
The company stood accused of sacrificing safety for the sake of profit.
"This mining corporation came out and talked about how successful they were. And then what happened? Together with this explosion, we've seen that no precautions were taken, the lives of the workers were not valued, and their lives were put in danger for more profit," protester Emre Erkaslan told AP.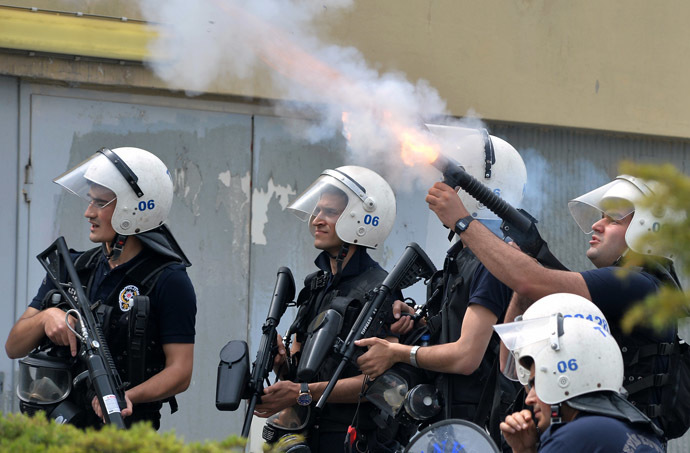 Thousands of relatives of the miners gathered outside the town's hospital searching for information on their loved ones.
"We haven't heard anything from any of them. Not among the injured, not among the list of dead," a local woman, Sengul, told Reuters, "It's what people do here, risking their lives for two cents ... They say one gallery in the mine has not been reached, but it's almost been a day."
@ruptly Rescue op in #Soma mine, Turkey, that has so far claimed lives of 232 workers. pic.twitter.com/yU6mqHzXD8

— Olga Lozovic (@OlgaLozovic) May 14, 2014
Meanwhile, Turkish Energy Minister Taner Yildiz declared that the accident was likely to be the country's worst ever mining disaster.
The cause of the fire is not yet clear, according to an emailed statement from the mine's operator, Soma Komur Isletmeleri. However, "the subsequent spread of carbon monoxide is, unfortunately, the reason for the loss of life," according to the statement.
Turkey's last worst mining accident in recent years was a gas explosion in 1992 near the Black Sea port of Zonguldak, which left some 270 workers dead. Since then, Turkey has witnessed to several mining accidents.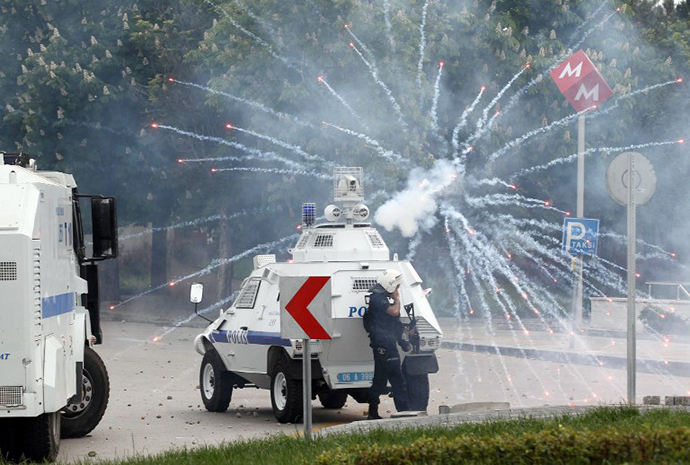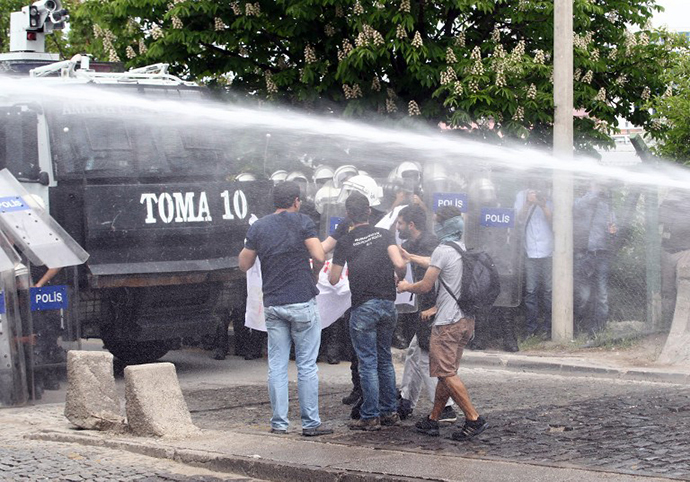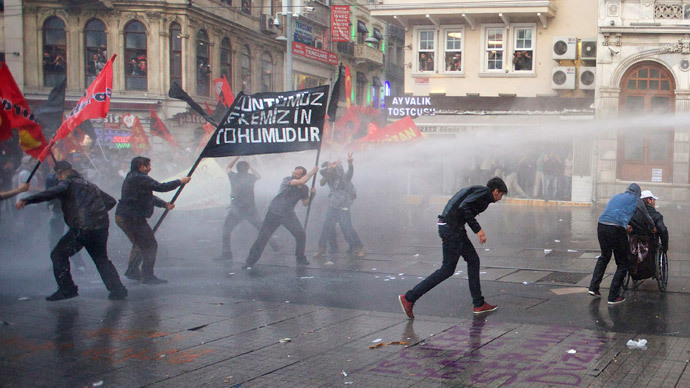 You can share this story on social media: