Coke, Pepsi to remove controversial additive after thousands sign petition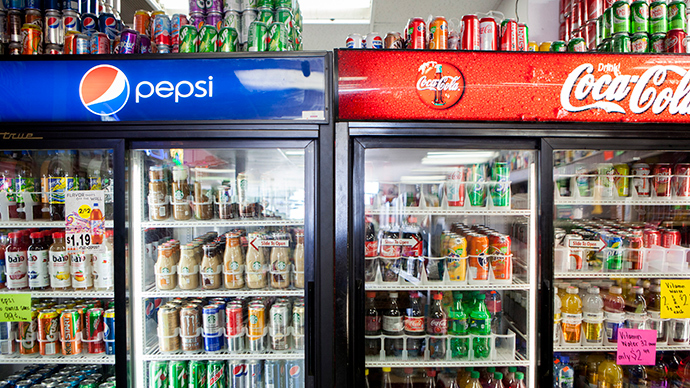 ​PepsiCo and Coca-Cola have been forced to drop a controversial chemical from all their drinks, thanks to a petition by a Mississippi teen and an overall worldwide rise in people's awareness of what goes into their food.
Brominated vegetable oil, or BVO as the ingredient is commonly known, is used to distribute flavors more evenly in fruit-flavored drinks. The world's largest beverage makers maintain it is completely safe.
But Sarah Kavanagh, 17, believes that this is not the way to address the public when the additive is also a patented flame retardant – one that is banned in the European Union and Japan. She launched a petition on Change.org to first remove the additive from her favorite sports drink, Gatorade, and got 200,000 signatures. After the success, she launched another public petition, this time addressing Powerade, PepsiCo's answer to Gatorade.
"I've read some crazy information about how BVO and the ingredient bromine can build up in people's bodies over time and how the chemical is linked to problems with hormones and fertility and stuff like that. I also saw that Powerade may be the official drink of the NCAA for college athletes! Athletes shouldn't be drinking that! NASCAR also has a deal with Powerade, but I don't know why unless it's to put out those engine fires!"
"It's weird because Gatorade's fruit punch doesn't have BVO! But Powerade's fruit punch does, and it is probably one of the most popular flavors for my friends. It is so wrong to be selling something like that to a bunch of kids anywhere! What are these companies thinking? I don't want anyone in my family touching that stuff," she wrote.
Another point Kavanagh makes is to ask why, if people in many places the world over can be safe in the knowledge that there's no BVO in their food and drink, should her family and peers in the United States be harmed needlessly.
The fear around BVO stems on the data that bromine it contains can bind to fat in the body and stay there. When ingested in high doses, the chemical might cause memory issues and skin and nerve problems as well as cause issues with reproduction, reports claimed. There have been few studies into the issue.
Coca-Cola spokesman Josh Gold said in a statement that "all of our beverages, including those with BVO, are safe and always have been – and comply with all regulations in the countries where they are sold. The safety and quality of our products is our highest priority."
A similar statement came from PepsiCo spokesman Jeff Dahncke: "We regularly evaluate our formulas and ingredients to ensure they comply with all regulations and meet the high quality standards our consumers expect," he said.
But what seems to be an increasing trend now that consumers have become more conscious about what they ingest and how much of it gets put on the label is a business model centered on proving that one's product contains more natural – if not always healthy – ingredients than that of the rival.
And this trend, brought on by increasing public concern, has its benefits: last year, PepsiCo pledged to remove BVO from its sports drink, Gatorade. It followed on from other manufacturers doing the same. And on Monday, the announcement was made that the process of removing the additive from the rest of its drinks has begun. It did not give a specific time frame.
On Monday, Coca-Cola promised to do the same. The range of drinks that contain BVO is also wide and includes the flagship Fanta. The ingredient will be replaced by another additive called sucrose acetate isobutyrate. It is also said to meet all dietary and regulatory requirements, owing to it being used in drinks for the past 14 years. Another ingredient to make the cut is glycerol ester of rosin, used in chewing gum and drinks.
Chemical names continue to sound complex to the average consumer, but it is the disorganized nature of how these things get approved and pass the test that could be another issue here. When in 1970, BVO was taken up on a trial basis pending more rigorous tests, the tests never arrived. It's now been close to 50 years, and the US Food and Drug Administration notes that the additive continues to be on the temp list.
While Kavanagh continues to be dissatisfied with the slow progress, and promises another petition against PepsiCo's use of BVO, she did tell the AP on Monday that "it's really good to know that companies, especially big companies, are listening to consumers."
This push could very well owe its success to how fast interest is generated in such activism these days. Kavanagh's petition on Change.org gained thousands of signatures very quickly. People showed concern that these drinks practically fly off the shelves at schools.
You can share this story on social media: