Indian officials push to demolish 'illegal' Coca-Cola bottling plant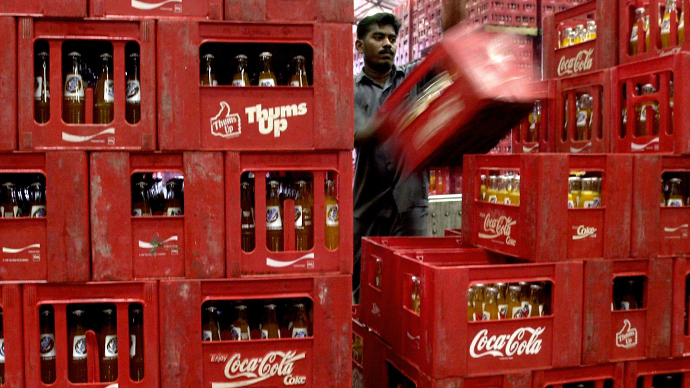 Officials in a province in northern India have promised to destroy a Coca-Cola bottling plant that has for years infuriated citizens in the area who claim the facility extracts more than its fair share of groundwater.
Coca-Cola sales are thriving in India, in part because of the country's rapidly growing middle class. But the company is unpopular with residents in the state of Uttar Pradesh, who say a bottling plant was built on village council land and is therefore "illegal." The local revenue administration thus ordered the demolition of Mehdiganj plant in Varanasi last month, according to Agence France-Presse.
Manoj Rai, the subordinate revenue administrative officer, said Friday that he expects to "implement the demolition orders in a couple of days. There is no question of not following the order."
The Vansari plant is one of 58 Coke plants throughout India. However, its apparent propensity to extract too much groundwater and pollute soil in the area has inspired protests for years. One such event, in 2006, lasted for over three months and culminated with a hunger strike among the local population and activists demanding the plant cease operations.
Along with polluting agricultural fields and bodies of water with toxins, the plant was reportedly responsible for lowering farm yields and consistently intimidating those who spoke out against it.
"The Coca-Cola company is responsible for destroying precious water resources for generations to come and they must be held to account," Amut Srivastava of the India Resource Center told Info Change India in 2006. "The government must act now and put an end to Coca-Cola's egregious behavior."
The village government previously imposed a fine of 126,000 rupee ($2,000) on the Hindustan Coca-Cola Company Pvt, which oversees the Varanasi plant. Such gestures have not been enough to satisfy protesters, however.
"It is preposterous that the government can allow a water-guzzling company like Coca-Cola to operate freely when thousands of people cannot even meet their basic water needs," said demonstrator Nandlal Master, who lived not far from the plant. "We are demanding that the state government take immediate action to cancel Coca-Cola's license."
The corporation has always denied the allegations, building an addition onto the plant in 2013 that is able to produce 600 polyethylene terephthalate (PET) bottles every minute. Coca-Cola India spokesman Kalyan Ranjan told AFP that the company has "all the documents to prove our land ownership," noting that the soda maker has "appealed against this order" to close.
You can share this story on social media: