18, including 11 kids, killed in double car bombing in central Syria – State TV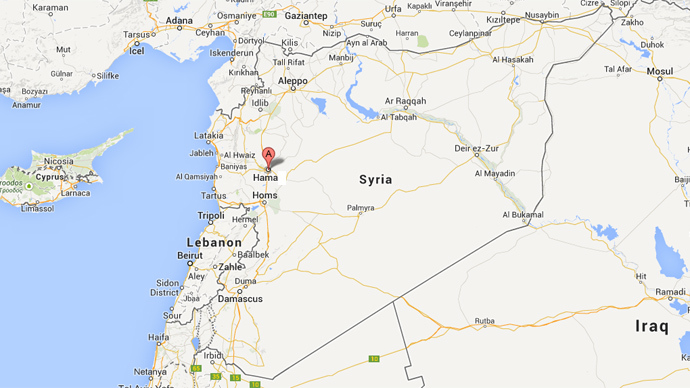 Two car bombs ripped through a town in Syria's central province of Hama, killing 18 people and injuring over 50, State TV said. At least 11 children died in the bombing.
The explosions took place in the towns of Jibrin, a few km northeast of Hama city, and Hamairi. The TV blamed "terrorists" for the attack, though it is not clear if the two blasts were connected.
Rami Abdurrahman of the Britain-based Syrian Observatory for Human Rights said the group's activists counted at least 15 dead from the blasts, including at least eight civilians.
Abdurrahman said he was not aware so far of any children being killed in the two attacks but conflicting death tolls are common after large bombings.
The country has experienced a wave of violence in recent weeks, with more than 50 people dying in separate car bomb attacks on Tuesday. 37 people were killed in Homs, which has been a flashpoint since the civil conflict began over three years ago.
The attack was carried out in an area inhabited by Alawites, which is a minority Shiite group, to whom President Bashar Assad also belongs.
Car bombs have been a favored by Al-Qaeda affiliated groups operating in the country, who are looking to oust the Syrian president.
Attacks are intensifying in the country on the eve of elections. The incumbent president, Bashar Assad put himself up for re-election on Monday, along with ten other candidates. Assad has been in power since 2000 and won the last ballot in 2007, gaining 97 percent of the vote.
According to the UK-based Syrian Observatory for Human Rights, which uses information from local sources, at least 150,000 people have died since the conflict began in March 2011. The United Nations says that nine million people, which is around half the country's population are in need of humanitarian assistance. The international organization also states that six million have been forced to flee their homes, while 2.5 million have already fled Syria into neighboring countries.
You can share this story on social media: