Car bombs and mortars kill over 50 in Homs and Damascus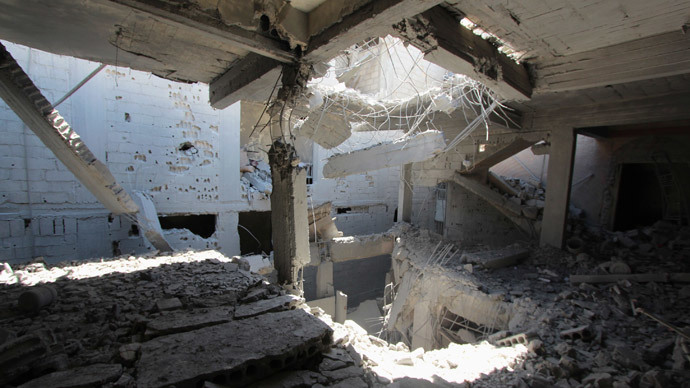 More than 50 people have died in separate suspected rebel attacks on two of Syria's biggest cities, official media agencies have reported.
In Homs – a flashpoint since fighting began in the civil conflict over three years ago - two car bombs exploded, killing at least 37 people and wounding scores of others. Reuters reported a local security source saying the toll had risen to 42, as rocket fire followed the initial detonations.
The blasts went off in an area inhabited by Alawites, the minority Shiite offshoot to which President Bashar Assad belongs.
The asymmetrical tactic has become a mainstay for increasingly radicalized rebels, as the regular army has gradually pushed them out of Syria's third-biggest city, once considered the main rebel stronghold.
Earlier on Tuesday, the capital Damascus suffered its heaviest mortar attack since 2011, as shells were launched from the Sunni rebel-controlled suburbs into another Shiite district.
The official SANA news agency reported that 14 people died, and 86 more were wounded. A Damascus police official told AP that the mortar struck a technical institute, where classes were in session, and that a number of children were among the victims.
Official Syrian media blamed 'terrorists' for the attacks, though no group has taken official responsibility. Previously, car bombs had been a favored device of Al-Qaeda-affiliated groups operating in the country.
The violence came a day after Bashar Assad put himself up for re-election as the Syrian President, alongside ten other candidates. Assad has occupied his office since 2000, and won his last election in 2007 with 97 percent of the vote.
It is unclear if the violence – which does not represent a spike from the usual figures – is a reaction to the upcoming election, which the Syrian opposition has uniformly dismissed.
At least 150,000 people have died in the conflict since March 2011, according to the UK-based Syrian Observatory for Human Rights, which uses information from local sources. The United Nations says that 9 million people – about half of the country's population - need humanitarian assistance. The international body also states that 6 million have been forced to leave their homes as a result of the violence, and 2.5 million have crossed into other countries to protect themselves.