World catching up with US in $28.7bn drone race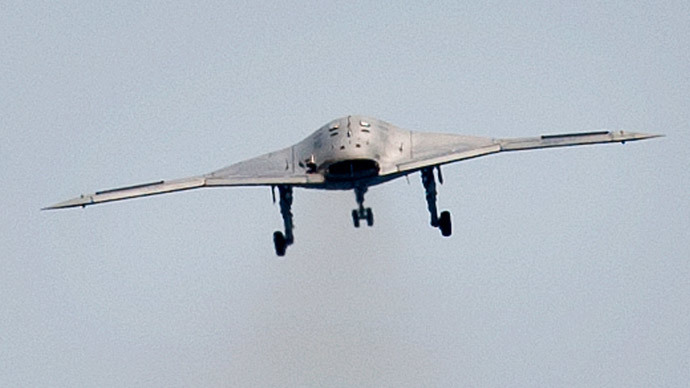 Analysts predict that in less than a decade's time, the United States will spend less than half the global total on drone research and development. Asia in particular is expected to surge ahead, with South Korea set to produce "suicide drones."
The US draw down in Afghanistan after over a decade of war, coupled with China's desire for expensive unmanned aerial vehicles (UAVs), are primary factors behind the expected reversal in US drone dominance, Forecast International, Inc., which provides defense and aerospace market intelligence and analysis, reported earlier this month.
Research and development for UAV technology is expected to balloon to $28.7 billion worldwide over the next 10 years, $11 billion of which will originate in the US.
"As time passes, the percentage of overall development spending attributed to the United States will fall as other regions increase their UAV research budgets," The Washington post cites the report, titled 'The Market for UAV Reconnaissance Systems,' as saying.
Major world powers are expected to have much larger drone fleets by 2022, and unmanned systems could make up 50 percent of the aircraft of some militaries by 2030, the data suggested.
The report, which is broken down by region, projects that research and development spending on drones — a key indicator of acquisition trends — will reach about $5.2 billion by 2022 for Western European countries, including France, Italy and Britain. The UK Ministry of Defence Select Committee recently concluded that UAVs "contributed greatly to the effectiveness of military operations in Iraq and Afghanistan." The report notes, however, that cost constraints could scale back their ambitions.
The document also mentions how recent events in Ukraine could push some Eastern European states to ramp up drone production.
"Poland wants UAVs capable of carrying out reconnaissance and surveillance missions, as well as strikes on ground targets," Larry Dickerson, Forecast International's senior unmanned vehicles analyst, told the Wall Street Journal.
"Warsaw will make a decision on purchasing new unmanned aircraft before the end of 2014, but an announcement could come much sooner."
Asia, however, will see the biggest jump in UAV-related spending. Funding for UAV research in Asia, including China, Indonesia, Japan, South Korea and Thailand, is expected to reach $7.7 billion.
Dickerson told the Post the Chinese People's Liberation Army has long wanted to acquire drone parity with the US military. Chinese manufacturer AVIC is projected to account for $5.76 billion of the 10-year market value, motivating neighbors to ramp up investment as well.
"They're all kind of worried because China thinks that the entire Pacific Ocean is their wading pool and they want everyone to get out," Dickerson said.
While China has focused on UAVs with air-to-surface weapons and precision-guidance munitions, Japan's focus is on industrial use helicopters with civilian and commercial applications like crop dusting.
Meanwhile, South Korea is expected to produce a large batch of "suicide drones", which are designed to travel long distances, fly into a target and detonate on demand.
Taiwan's domestic drone development program has produced tactical unmanned aircraft for its army, Bangladesh uses unmanned aircraft for marine patrol, Vietnam has drones for policing purposes and the Philippines has experimented with deploying the technology for internal security purposes, Dikerson added.
Overall, some 41,800 land- and sea-based unmanned systems worth approximately $10.5 billion are projected for the 2014-2023 forecast period.