'StratoBus' drone-satellite hybrid to provide new level of surveillance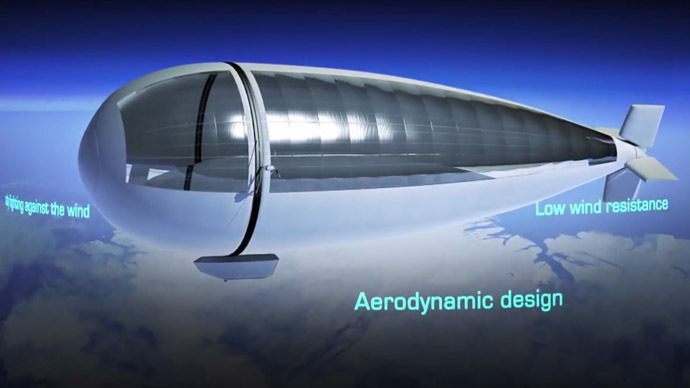 A new project of an autonomous airship – a hybrid between a drone and a satellite – has been developed in France. The 'StratoBus' dirigible drone will be able to carry out long endurance observation operating at an altitude of about 20 kilometers.
The new breed of autonomous zeppelin has a mission of "observation, security, telecommunications, broadcasting, and navigation," developers said.

Designed to be between 70 and 100 meters long and 20 to 30 meters in diameter, made of carbon fiber, and equipped with two motors, the StratoBus will be able to operate at an altitude of about 20 kilometers in the lower reaches of the stratosphere – above air traffic and jet streams.

The airship will be able to take higher resolution images and maintain a stronger communications system, as it will roam airspace much lower than actual satellites.
StratoBus has the potential to include a wide range of applications like "border and maritime surveillance, boosting GSM network capacity for public events and GPS augmentation over areas of dense traffic," Thales Alenia Space – the organization leading the project alongside partners Airbus Defence & Space, Zodiac Marine, and CEA-Liten – said in a press release.

Developers said the airship – equipped with solar panels and an ultra-light reversible fuel cell for energy storage – will be able to endure missions for a year, while its lifespan about five years. The first prototype is scheduled to be rolled out within the next five years.

A similar project was previously developed by Google. Project Loon was designed to connect people in rural and remote areas through a network of balloons traveling on the edge of space.
You can share this story on social media: