Rescue efforts ongoing to free 40 trapped in Indian tunnel
Dozens of workers remain stranded after a portion of the passage collapsed in the northern Uttarakhand state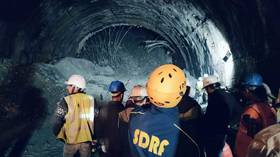 An operation to rescue 40 laborers trapped inside a tunnel in Uttarakhand state was underway on Monday morning, with emergency teams managing to provide oxygen and supply food to the stranded workers through water pipes.
A portion of the 4.5km-long passage between Silkyara and Dandalgaon, which is being built on the Brahmakhal-Yamunotri National Highway, collapsed on Sunday, leaving dozens trapped inside.
The tunnel is part of the federal government's ambitious project to improve "all-weather" connectivity in the Himalayan state, which is known for harsh weather conditions, frequent landslides and snow avalanches.
Around 150 rescue personnel from the National Disaster Response Force (NDRF), SDRF, Indo-Tibetan Border Police (ITBP) and Border Roads Organization (BRO) have been mobilized to rescue the people.
"The rescue operation is happening on a war footing. Drilling machines have been deployed so that a safe escape passage can be created," District Magistrate Abhishek Ruhela told the Times of India.
The operation involves two excavators and a hydraulic motor, which are being used to remove debris from the 13-meter-wide tunnel.
"We are facing a bit [of a] problem as the debris is wet, but our team is leaving no stone unturned and a rescue is underway," a senior NDRF official was quoted as saying by the Times of India on Monday morning. "We have moved around 15 meters into the tunnel, and around 35 meters have yet to be covered," another senior official said.
Officials were finally able to establish contact with the trapped laborers through walkie talkies several hours after the accident occurred, according to Indian media.
The workers confirmed that there had been no casualties and asked for food. Food packets and water are being provided through pipes, local officials said.
The 'Char Dhaam' project includes the construction of 900km of national highways to connect all of Uttarakhand state and is estimated to cost around 120 billion Indian rupees ($1.5 billion). The Indian government expects the new infrastructure to improve the livelihoods of the local population, increasing trade and tourism. The project will provide all-weather connectivity to key centers of pilgrimage in the Himalayan state.
In 2021, a deadly incident occurred in another part of the state, when more than three dozen workers were trapped inside a tunnel at the Tapovan Vishnugad Hydropower Plant in the Chamoli district, following massive flash floods caused by a glacier burst. The disaster claimed more than 80 lives and 200 were reported missing.
You can share this story on social media: