Battling deadly avalanches and blizzards: A look into India's infrastructure marvel along its Himalayan borders
Heavy snow makes the road between Kashmir and Ladakh unusable for over half the year. A tunnel is now being bored in India's second-highest pass that will make Ladakh accessible year-round to civilians and the military.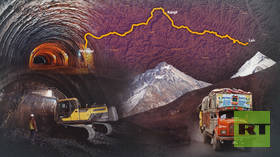 Harpal Singh and his army of 2,500 construction workers don't know what's coming this winter, which will set in by October's end. What they do know is that it will be harsh and challenging at their already hostile workplace on the rocky mountains of Zojila Pass over 11,500 feet above sea level, along India's National Highway 1 (NH1) through the Himalayas between the union territories of Jammu and Kashmir and Ladakh.
On their battlefield, temperatures drop to minus 30 degrees Celsius and lower, with wind speeds at 35 to 40 kilometers per hour in peak winter. Deadly avalanches and blizzards are a constant threat.
Inside the Zojila Tunnel, Asia's longest bi-directional high-altitude tunnel under construction and one of India's most ambitious projects on the Srinagar-Kargil-Leh road from Kashmir to India's northernmost region of Ladakh, it's a battle with the elements for seven months a year.
Yet, the determined workforce continues diligently to meet its 2026 deadline. The tunnel is part of the Government of India's intensified focus over the last few years on border infrastructure.
On September 12, defense minister Rajnath Singh inaugurated 90 infrastructure projects with a total financing of nearly 30 billion rupees ($355 million). Of these, 26 are in Ladakh alone and include the Nyoma Airfield in eastern Ladakh, under development at a cost of 2.18 billion rupees ($26 million) for wide-ranging strategic air assets. It will give a boost to air infrastructure in Ladakh, where India and neighbor China had a tense standoff in June 2020.
A vital link
Situated at an elevation of 3,528 meters, Zojila is the second-highest pass on NH1, the highest being the Fotula Pass. Zojila connects the Kashmir valley to its west with the Drass and Suri valleys to its northeast, and to the Indus Valley located further east.
The terrain is extremely inhospitable. Not only does it witness blizzards and avalanches but many fatal accidents occur on this pass every year. 'Zojila' loosely translates as 'Mountain Pass of Blizzards.'
The national highway between Srinagar in Kashmir and Leh in Ladakh remains closed for six to seven months due to heavy snowfall. It's always been that way. This not only restricts military movement to the border areas, it also leads to inaccessibility for the civilians moving between the Kashmir valley and Ladakh.
During peak winters, almost everything is covered under a thick blanket of snow. The local population in Ladakh migrates to other places for six months owing to the non-availability of essentials and food items such as vegetables, which need to be transported from other states.
The only other alternate route to Ladakh from Himachal Pradesh, too, remains closed due to landslides and avalanches, making the region inaccessible. This forces both the Indian forces and civilians to take the air route, impacting the transportation of material and other essentials for soldiers to survive on for months in high altitudes. Indian Army soldiers posted at high altitudes stock up on all essentials and materials much before the winters commence every year. But emergency supplies take a hit.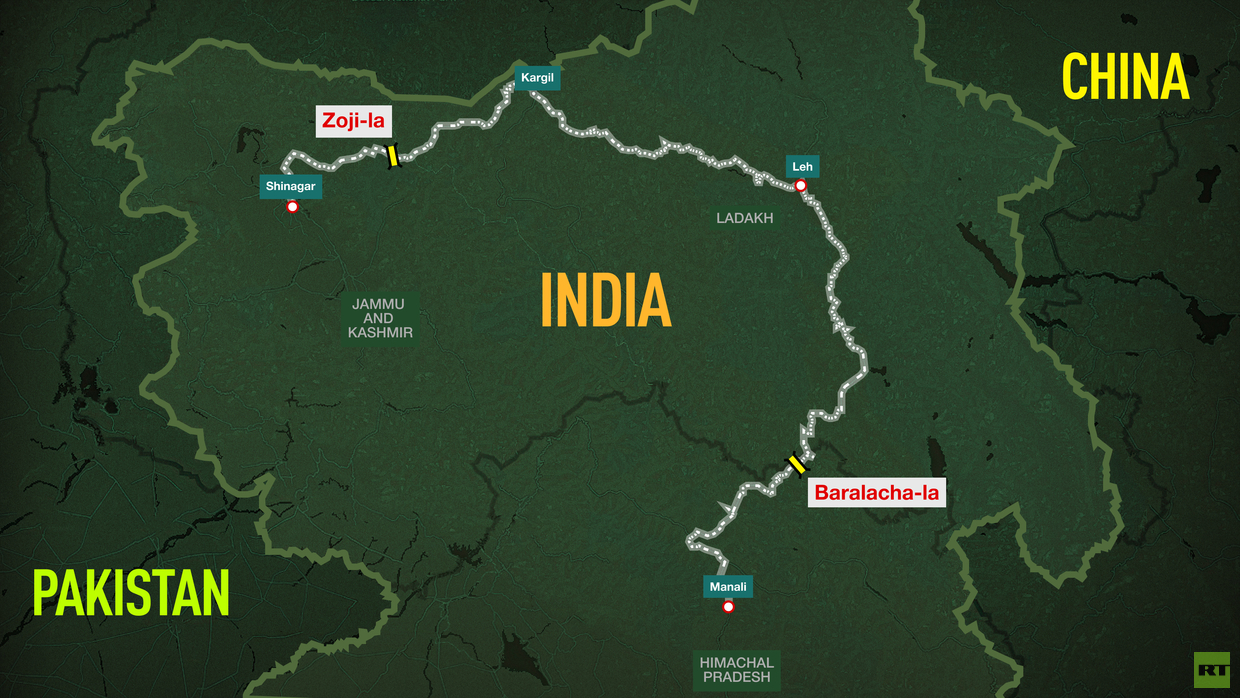 "Therefore, there is a need to provide year-long transportation access to the Indian forces stationed there. Since the Srinagar and Ladakh regions are located adjacent to the international borders of Pakistan and China, national security is a concern," a senior Government official says.
He added that this partial inaccessibility will be bridged with Zojila Tunnel and that it "will also help the 'Amarnath Yatra' pilgrims whose base camp is in Baltal." Each year, hundreds of thousands of devotees undertake the Amarnath Yatra. Once the tunnel is complete, travel time between Srinagar and Ladakh will reduce from 3.5 hours to 45 minutes. The government believes that the year-round connectivity will help in the financial and cultural development of the Kashmir and Ladakh regions and give a boost to tourism.
War-zone project
Back in 1947-48, Zojila Pass was a war zone. It was captured by militias aided by the Pakistan army, whose aim was to take Ladakh. But quick strategizing and bold decisions by Indian forces ensured Zojila remained part of India.
In what was then an unprecedented move, the Indian Army deployed battle tanks above 11,500 feet, unthinkable at the time. The retaliation by Indian forces took Pakistan by surprise. Finally, India recaptured Zojila on November 1, 1948, in an assault codenamed 'Operation Bison.'
Almost 75 years later, it's no less a battleground for Hyderabad-based Megha Engineering and Infrastructures Limited (MEIL), albeit for battles of a different kind.
MEIL is building the Zojila Tunnel project for the State and won the contract in 2020. Despite the strategic importance of the tunnel, the tendering process for the project was marked with controversy, with several tenders proferred then canceled. In 2018, the foundation stone for the project was laid by Prime Minister Narendra Modi, who described the project as a "technological marvel."
With a cost of 4.5 billion rupees ($544 million), the project comprises three tunnels with a total length of 15.5 kilometers. Along a dirt-trail in the pass with hairpin bends and spectacular views of the valley, the tunnel works witnesses round-the-clock activity.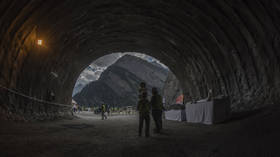 Under mountain peaks covered with dense clouds and surrounded by slopes with patches of green and streams, the Zojila Tunnel workforce, led by project manager Harpal Singh, has been on the job non-stop since April 2021.
"Winter preparations are top priority," 61-year-old Singh says with a smile, as he and his team arrange for the rapidly approaching winter. "We are stocking up on rations, groceries, and other essentials, particularly high-speed diesel, a must for our machinery. The stocks will keep us going for the next seven to eight months," he says. They are geared up to face the bone-chilling, volatile weather.
Far from their families, engineers and workers are accommodated in prefabricated huts. "It has heating arrangements and hot water. We have snow blowers and loaders that run on antifreeze diesel, to clear the route that enables men and machinery to pass through the site easily," Singh says.
How does he keep the men motivated? "It's a project of national importance and the team is self-motivated to serve the nation," Harpal explains. Armed with state-of-the-art equipment and protective gear, the men go about excavation, tunneling, gabion-installation and gantry lining, all under neon lighting.
Work at the Zojila Tunnel had to be stopped a number of times due to difficulties posed by the weather and the terrain. In January this year, a deadly avalanche not only brought the work to a grinding halt, it caused two deaths. The equipment was also buried in heaps of snow, which can accumulate to six feet.
The specifics
The Zojila Tunnel has a total length of over 15 kilometers. The horseshoe shaped, single-tube, two-lane tunnel is 9.5 meters wide and 7.57 meters in height. The two other tunnels are the 435-meter Nilgrar tunnel-1 and the 1,950-meter Nilgrar tunnel-2. It has four culverts totalling 810 meters.
Along with the main tunnel, a 2,350-meter cut-and-cover tunnel in eight segments is under construction, with ventilation ducts, three conventional shafts and two transverse ventilation systems shafts. (A cut-and-cover tunnel is a construction method where a shallow tunnel is excavated and roofed over to carry the support above the tunnel.) The project spans 31 kilometers.
"Both Nilgrar tunnels are almost complete, except for some minor works. It should be ready by December," site employees say.
Out of the eight cut-and-cover structures, five have been completed and work is underway on the remaining three. In the main Zojila Tunnel, 6.5 kilometers of excavation has been completed. In all, 8.8 kilometers of tunneling is complete, more than 50 % of the tunnel. On average, workers are tunneling about ten to 12 meters daily.
The tunnel includes a unique transport ventilation system with three vertical shafts – a 500-meter west shaft, a 385-meter central shaft, and a 220-meter east shaft. It includes retaining walls, brick walls, gabion constructions, and mud walls for a distance of ten kilometers.
In addition, it will be equipped with catch dams (a waterway built to counteract erosion), airblasts, protection walls, and deflator dams for a distance of six kilometers for protection from snowstorms. The area is surrounded by at least nine avalanche zones. The construction also involves making portals, shafts, bridges, a control-room complex, a ventilation building, snow galleries, and muck disposal at the base camp of Amarnath Yatra.
During winters, water temperatures have to be raised to 80 degrees Celsius for the concrete mix.
Once completed, the tunnel will have automatic and emergency lighting, emergency phone, uninterrupted power supply, message signaling, CCTVs and radio to ensure the safety of travelers, who may drive at up to 80 kilometers per hour in the tunnel. The project is expected to enhance the region's trade network and to uplift the area economically.
New Austrian Tunneling Method
In line with European standards, the company is implementing the New Austrian Tunneling Method (NATM) technology, also known as the sequential excavation method. "NATM is a method of modern tunnel design by employing sophisticated monitoring which optimizes wall reinforcement techniques based on the type of rocks. This method has brought about a tunneling revolution across the world," an employee explained.
One of the key advantages of this method is that it stabilizes the tunnel. The strength of the ground around a tunnel is deliberately mobilized to the maximum extent possible. It is achieved by controlled deformation of the ground. After installing the initial primary support having load-deformation characteristics appropriate to the ground conditions, the installation is timed according to the ground deformations.
While the technique first gained attention in Austria in the 1960s, it has been put to extensive use only in the last few years, with many modern tunnels using it as part of their excavation works.
MEIL's challenges are not new. The industrial conglomerate has successfully completed several projects in the challenging terrain of the Himalayas, including the Lambadug Hydroelectric project in Himachal Pradesh, Oil and Natural Gas Corporation Limited (ONGC)'s Assam Renewal project, as well as drinking-water projects in Rajasthan and others across India.
You can share this story on social media: