This Indian chess prodigy shocked the world. RT reveals the story of the people behind his success
The family of grandmaster Rameshbabu Praggnanandhaa, who made headlines last week for reaching the World Cup final, speak to RT about their shared journey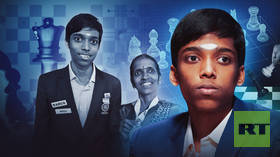 At the recent Chess World Cup, it was a middle-aged woman without much knowledge of the intricacies of this cerebral game who grabbed the headlines. It was a role for which N. Nagalakshmi – the mother of 18-year-old Indian grandmaster Rameshbabu Praggnanandhaa, the youngest-ever World Cup finalist – was least prepared.
Praggnanandhaa created a sensation at the World Cup in Baku last week, beating the second and third seeds before taking top seed Magnus Carlsen all the way to a tie-breaker in the final.
Praggnanandhaa – nicknamed Pragg – was only the second Indian ever to reach the World Cup final, after the legendary Viswanathan Anand.
After several days and four intense games, Carlsen eventually prevailed to win the World Cup title for the first time in his gilded career. However, the fact that chess prodigy Pragg dragged the Norwegian to a tie-breaker was celebrated back in India, and symbolically coincided with the nation's Chandrayaan-3 mission landing on the Moon.
But it wasn't only Pragg who made headlines in India and beyond. His mother, Nagalakshmi, has been traveling with him and cooking for him since he began playing competitive chess at the age of seven. I first interviewed the chess genius when he was just starting out with his career. Now, exclusively for RT, I've spoken to Pragg's father and sister – who is also an international-level chess player – about the role Nagalakshmi played in making chess-loving India proud.
Mom's long journey
Nagalakshmi's photos from the venue in Baku, Azerbaijan, went viral globally. Even hard-nosed chess professionals were moved by the image of the mother fondly watching her son at a press conference. She wasn't even aware that someone was photographing her. In one sense, the unassuming lady from Chennai in India's southern state of Tamil Nadu upstaged her son's achievement of becoming the youngest finalist in World Cup history.
Pragg is a chess prodigy in the truest sense. Aged 10 years and nine months, he became the youngest international master (IM) in the world in 2016. While that accolade has since passed to someone else, Pragg was the first Indian to set a chess world record. He would go on to become the second-youngest person ever to achieve the status of grandmaster, behind Russia's Sergey Karjakin, at the age of 12 years and 10 months in 2018.
Nagalakshmi has been accompanying Pragg and his elder sister R. Vaishali to tournaments outside India for more than a decade. Her newfound fame is somewhat startling for the family.
"I have heard more questions about my mother's presence in Baku than Pragg's achievement in the Azerbaijani capital," said Vaishali, 22, laughing.
Nagalakshmi's image has made a strong impression around the world because of its emotional appeal.
"I'm proud to hear many people talk about my mother because she symbolizes the spirit of all mothers who accompany their chess-playing children to tournaments in India. My mother has worked incredibly hard all these years because she has had to take care of her two globe-trotting children," Vaishali told RT.
According to Vaishali, constant travel has taken a toll on her mother's health. "But nothing can stop her from helping us. My father's role is no less significant, as he books our flight tickets and hotel rooms meticulously. He is our in-house travel expert. If Pragg and I are able to concentrate on our chess, the credit must go to my parents," Vaishali said.
No pressure for success
Nagalakshmi and her husband, A. Rameshbabu, first sent Vaishali to chess training to allow her to learn something interesting. Her natural feel for the game meant she regularly started taking part in age-group tournaments.
Pragg was full of energy during that period and his parents needed an outlet to make him sit in one place. As he regularly accompanied his mother to Vaishali's chess classes, Pragg, too, showed an interest in the game. The rest, as the record books would attest, is history.
Indian parents can be pushy. From selecting their children's sport to choosing their spouses, they want a role in everything. Children are expected to make their parents' sacrifice worthwhile through success. Not a virtuous cycle, psychologists would say.
But Nagalakshmi and her husband seldom push their children hard for medals and trophies. "We have never put our kids under pressure for success," Rameshbabu said. "How can someone keep winning all the time? Results are secondary. My wife and I are keen that they enjoy their game."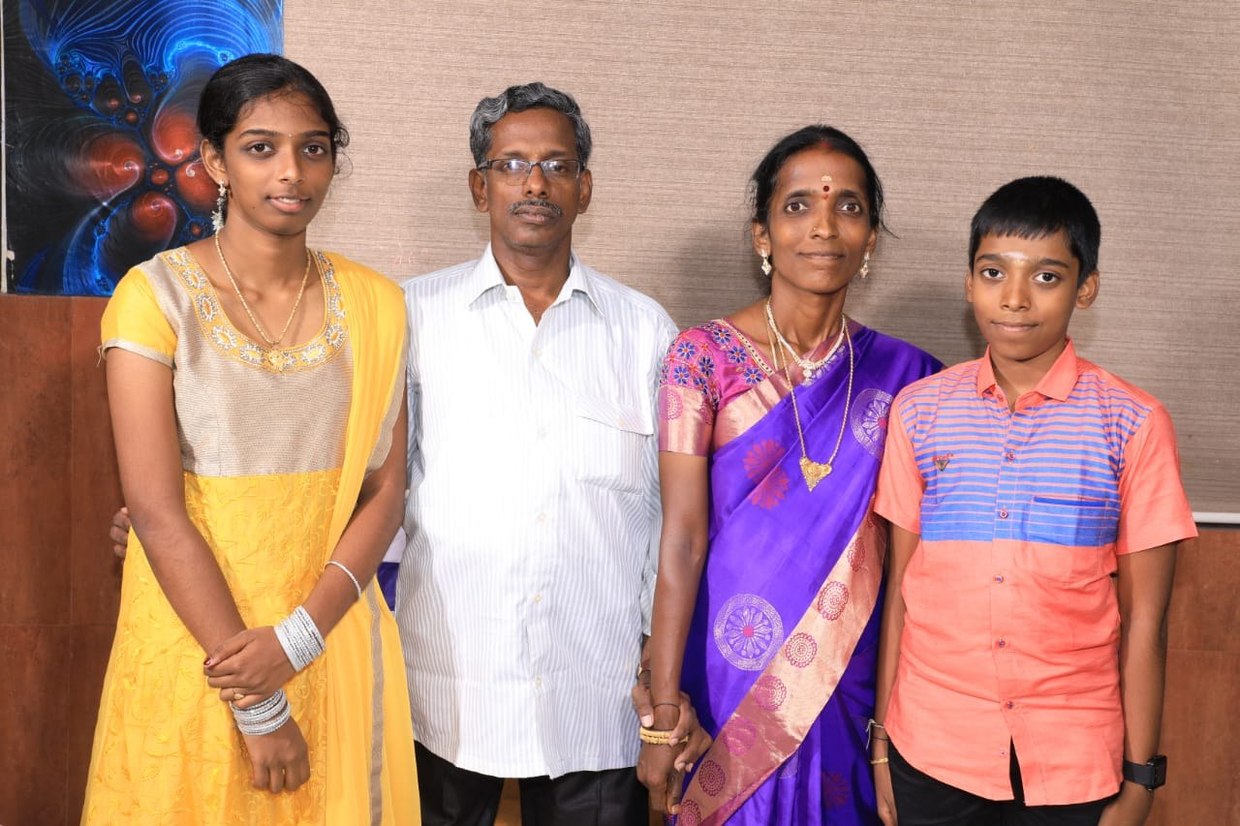 Never gave up
Rameshbabu, who works in a bank in Chennai, cannot walk without assistance as a result of polio in one leg. So the onus is on Nagalakshmi to accompany Pragg and Vaishali on foreign trips. She doubles up as a cook for her children. After losing to five-time world champion Carlsen in the World Cup final, Pragg acknowledged that his mother's presence was a great help at the lengthy tournament.
Rameshbabu and Nagalakshmi had to endure hardship early on as they struggled for money to get Pragg and Vaishali foreign exposure and vital ranking points. Playing chess is inexpensive but becoming a world-class player is not.
Rameshbabu is the only earning member of this middle-class family. The fact that a non-playing member, Nagalakshmi, had to be on the plane on almost all trips abroad made his job tougher. After Pragg started winning, sponsors began to loosen their purse strings, easing Rameshbabu's financial worries.
Vaishali, who is four years older than Pragg, has seen her parents struggle financially. "Even though it wasn't easy for them to support the careers of two, they never gave up. Fortunately for us, results aren't important for them but the process is. Our parents encourage us to work hard. Never once have I felt the pressure to perform. I would say their hard work has made me more responsible," she added.
Vaishali is proud of her brother's stellar achievement in Baku. "I'm thrilled that he has qualified for the Candidates tournament, from which one qualifies for the World Championship. For chess players, the World Championship is the ultimate goal and knowing that Pragg is a step away from realizing his dream is a joy," she said.
Rameshbabu said his wife has contributed to 90% of Pragg's success. "Determination is the cornerstone of Nagalakshmi's life. Once she decides to do something, she will complete it without worrying about the hurdles she might face. At the same time, she will think deeply before making a decision and there is no question of her going back. My job is easy. I will say 'yes' to whatever she says because I know she would always be right," he added.
S. Thyagarajan, Vaishali and Pragg's first coach, has had a firsthand view of the family for a long time. "I have known them since around 2007. Rameshbabu and Nagalakshmi haven't forgotten their struggle to support the careers of Vaishali and Pragg early on. That's why they remain endearingly simple even when their children have become stars in chess," he said.
Thyagarajan said the contribution of Nagalakshmi in making Pragg a world-class player cannot be described in words. "I would say she is the main reason for the success of Pragg. I still remember how much she traveled every day to ensure that her children attended chess classes during their formative years. After dropping them off in the morning, she would go home and cook food to bring to my coaching center again during lunch," he said.
According to the coach, Rameshbabu and Nagalakshmi are model parents. "I have never seen parents like them in my life. They are an inspiration to everyone. I use their speeches to motivate the parents of children training in my academy. There is wonderful chemistry between the husband and the wife, as they continue to steer the careers of their children in the way they should," he added.
Thyagarajan has seen overzealous parents destroy the careers of their children. "Many parents interfere in coaching without knowing anything about chess. Rameshbabu and Nagalakshmi never do that. They trust the coaches. Above all, they know their chess knowledge is minimal and they cannot add any value to coaching. I have never seen them put pressure on Vaishali and Pragg; they only pray for their children's success," he added.
When Praggnanandhaa was seven years old, he wrote down his rather difficult name to a reporter and exclaimed that he had five As. When the reporter patted him on his back, saying he was a grade-A student, Pragg retorted that he was in the Class Two G section (in India it is common for primary school students to mention their section along with their class). Now he is old enough to know that he is a grade-A player. 'Amma', which means 'mother' in the local Tamil language, also starts with an A, by the way.
You can share this story on social media: