India begins gin exports to Russia – report
Liquor companies from the South Asian nation are eyeing fresh opportunities after the departure of Western brands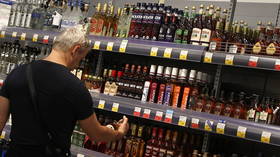 Indian companies have broadened alcohol exports to Russia, supplying 130,000 decalitres of gin in May-June for the first time, RIA Novosti reported on Friday, citing data from the Indian Ministry of Trade and Industry. Indian brands are aiming to increase their share of the Russian market after the departure of Western companies.
Aleksandr Stavtsev, head of WineRetail, told the outlet that Indian gin is represented in Russia by major producer Radico Khaitan, as well as several smaller producers. According to Stavtsev, the price for Indian gin averages 3,000 to 4,000 rubles ($32-$42) per 0.7 liter. Two-thirds of the Russian market is occupied by domestic producers, whose prices are typically around $11 per liter.
Meanwhile, RIA analysis showed that India has ramped up imports of Russian vodka, which grew by 3.6 times in the first half of the year.
Stavtsev said that Russian companies are "looking for new markets and India is a very promising direction for this."
Those remarks were echoed by Veniamin Grabar, president of Ladoga Group, which produces premium Russian vodka. Grabar told RIA that Russian-made vodka "turned out to be more attractive to the taste of the Indian consumer than European vodkas." The company is already cooperating with India on whiskey sales and plans to start working on the import of gin, he noted.
Whiskey has been the alcohol most affected by Western trade restrictions on the Russian market. According to WineRetail estimates, bottled whiskey imports halved in 2022 to between 11 million and 12 million liters. Earlier this year, Indian company Allied Blenders and Distillers (ABD), which produces world's third-most-popular whiskey, Officer's Choice, revealed plans to enter the Russian market.
For more stories on economy & finance visit RT's business section
You can share this story on social media: