India makes space proposal at BRICS summit
Prime Minister Narendra Modi has proposed a new space-exploration consortium for shared research and weather monitoring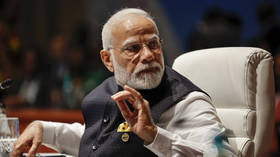 In an address to the annual summit of leaders of BRICS countries on Wednesday, the prime minister of India, Narendra Modi, called for the establishment of a new, multinational space-exploration consortium. His proposal came just hours before India's moon probe achieved a historic landing on the southern lunar pole.
"We are already working on the BRICS satellite constellation. Taking it a step further, we can consider creating a BRICS space-exploration consortium. Under this, we can work for global good in areas like space research [and] weather monitoring," Modi said.
The BRICS countries (Brazil, Russia, India, China and South Africa) last year established a joint committee on space-cooperation to enable the five countries' remote sensing satellite constellation to share data. That initiative was initially promoted by China in 2015.
The constellation consists of existing BRICS satellites, including China's Gaofen-6 and ZY-3 02 satellite, Russia's Canopus five-satellite, India's ZY 2 and 2A satellites, and the jointly-developed China-Brazil Earth Resources Satellite 04. Constellation satellite data is available from ground stations located in Sanya, China, in Cuiaba, Brazil, in Moscow Region, Russia, Shadnagar-Hyderabad, India, and Hartbeeshawk, South Africa.
Last month, Russia proposed creating a dedicated specialized module for BRICS countries at the Russian Orbital Station (ROS), which is expected to be launched in 2027. This could enable BRICS countries to carry out their respective national space programs using the opportunity offered by the station's near-Earth orbit.
"I would like to propose that our partners in BRICS consider the opportunity to take part in this project and create a full-fledged module through joint efforts, which would enable BRICS countries, as part of the ROS project, to use the opportunity offered by [ROS'] low near-Earth orbit to carry out their respective national space programs," the director-general of Russia's space agency Roscosmos, Yury Borisov, said at the time.
At the Johannesburg summit this week, Narendra Modi also proposed cooperation in education, skills development and technology, as well as "skills mapping" to identify the strengths of every BRICS member state. "To make BRICS a future-ready organization, we have to make our societies future-ready. Technology will play an important role in this," Modi noted. He also suggested making inter-state efforts for the protection of all species of big cats under the International Big Cat Alliance, and for the creation of a repository of traditional medicine, since every BRICS country has its own ecosystem of traditional medicine.
Noting India's "full support" for the expansion of BRICS, the Indian leader hailed South Africa's presidency for giving a special importance to the countries of the Global South. He reiterated that New Delhi, too, has given top priority to this topic under its Group of Twenty (G20) presidency. "This is not only the expectation of the present time, but also the need," Modi said. He emphasized that India has proposed to give permanent membership of G20 to the African Union, and expressed hope that BRICS part
You can share this story on social media: