India and China agree to resolve border issue
The two nations will aim to deal with the problem in an "expeditious manner" as Narendra Modi and Xi Jinping prepare to meet at a BRICS summit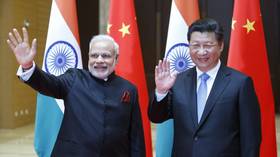 India and China held a new round of talks this week as part of ongoing efforts to resolve a standoff over the contested Himalayan border region between the two countries.
The Asian neighbors agreed to deal with the remaining issues over the so-called Line of Actual Control (LAC) "in an expeditious manner," in addition to maintaining peace in border areas, a joint statement said on Tuesday.
The 19th round of India-China Corps Commander Level talks was held at the Chushul-Moldo border point on the Indian side. The statement released after the meeting said the countries had held a "positive, constructive and in-depth discussion… in line with the guidance provided by the leadership."
"The countries agreed to resolve the remaining issues in an expeditious manner and maintain the momentum of dialogue and negotiations through military and diplomatic channels. In the interim, the two sides agreed to maintain the peace and tranquility on the ground in the border areas," the statement added.
The fresh round of talks comes days before Indian Prime Minister Narendra Modi and Chinese President Xi Jinping are set to meet at the BRICS leaders' summit in South Africa, and later in September during the G20 summit in New Delhi. According to online newspaper The Print, the rare two-day talks focused on wide-ranging issues, and both sides "decided to convey possible confidence-building measures." Notably, the two countries agreed to freeze the buildup of troops and equipment along the border, the report claimed.
Despite several rounds of disengagement at the Galwan Valley, Pangong Tso, and several other sections along the LAC, the Indian and Chinese armies continue to maintain a large troop presence.
Thousands of soldiers and equipment have been stationed along the LAC since the 2020 Galwan Valley clashes, the deadliest border encounter between the two countries in decades, which claimed the lives of least 20 Indian troops and four Chinese.
Calls have intensified to resolve the dispute and improve bilateral relations. After Indian National Security Advisor (NSA) Ajit Doval and top Chinese diplomat Wang Yi held talks on the sidelines of the BRICS NSAs meeting in Johannesburg last month, New Delhi said that the situation along the LAC had eroded strategic trust and the public and political basis of the relationship with China. It also emphasized the importance of continuing efforts to fully resolve the situation and restore peace in border areas. Commenting on the NSA meeting, Beijing called for concrete policies to stabilize bilateral relations.
You can share this story on social media: