India seeking to electrify South Asia – Reuters
New Delhi is reportedly planning to create a regional power grid for renewable energy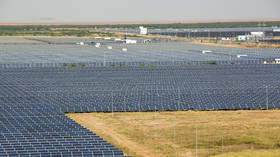 India is considering exporting electricity to Southeast Asian countries through Thailand and neighboring Myanmar, Reuters reported on Friday, citing industry sources and officials in the Power Ministry.
The cross-border grid links could take at least four years to complete, an industry official reportedly claimed. Negotiations are ongoing with G20 member states to get them onboard and secure backing from bankers and developers, Reuters said.
"Once we are able to connect India's national grid to Burma (Myanmar), we should be able to strengthen the grid there and further transmit to Thailand and even Asia's east," a source told the agency.
India has engaged France's EDF to prepare a regulatory framework for the project, which is expected to be completed by the end of this year, Reuters added.
The Times of India reported earlier this year that India was working on an interconnected power grid across the South Asian region that would cover "as many countries as feasible."
India currently generates 75% of its total power from coal. The government announced plans in April to massively boost its renewable energy capacity and to achieve a target of 500 gigawatts from non-fossil fuels by 2030, up from the current 177 gigawatts.
India is pursuing the 'One Sun, One World, One Grid' policy, which was put forward by Prime Minister Narendra Modi in 2018 and launched jointly with the British government. The initiative aims to connect different regional grids through a common network that will transport power generated from renewable energy sources, especially solar energy. As part of the program, India began efforts to trade power with Middle Eastern countries such as the United Arab Emirates.
India already exports some electricity to the neighboring Bangladesh, Nepal and Bhutan, along with very small amounts to Myanmar, which would be increased massively under the new plan, Reuters concluded.
For more stories on economy & finance visit RT's business section
You can share this story on social media: