India starts paying for Russian oil in yuan – Reuters
The South Asian nation has been seeking alternatives to the US dollar for its energy imports in the wake of Western sanctions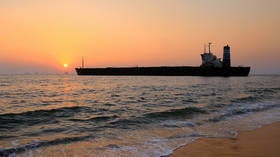 Indian refiners have started using Chinese yuan instead of US dollars to pay for some oil imports from Russia, Reuters reported on Monday, citing people with direct knowledge of the matter.
According to the sources, India's biggest buyer of Russian crude, Indian Oil Corp, became the first state refiner to pay for some Russian purchases in yuan last month. At least two of India's three private refiners are also paying for some Russian imports in yuan, two other sources claimed.
"Some refiners are paying in other currencies like yuan if banks are not willing to settle trade in dollars," an unnamed Indian government source was quoted as saying.
The sources noted it could not immediately be determined how much Russian oil Indian refiners have bought with yuan, adding that Indian Oil has paid in renminbi for multiple cargoes.
Indian officials have not supported the measures against Moscow adopted by the West in response to the conflict in Ukraine. Though New Delhi decided not to take part in the restrictions, Indian banks and financial institutions remain cautious about clearing payments so as not to unintentionally fall foul of other measures introduced against Russia.
A $60-per-barrel price cap on Russian seaborne oil exports was introduced by the EU, G7 countries, and Australia on December 5. The mechanism prohibits Western companies from providing insurance and other services to shippers of Russian oil unless the cargo is purchased at or below the set price.
A similar measure targeting petroleum exports came into force on February 5. It sets the price of refined petroleum products imported from Russia at $100 per barrel for diesel and $45 per barrel for fuel oil. The steps are aimed at cutting Moscow's energy revenues.
Russia rerouted supplies to Asia and other destinations in response to the sanctions, which have been forcing Moscow and its customers to find alternatives to the dollar for settling payments. According to Reuters, Indian refiners have also settled some non-dollar payments for Russian oil in the UAE's dirham.
Russian oil exports to India climbed to a new peak last month, having risen for ten consecutive months, according to data from commodities analytics firm Kpler. The world's third-largest oil importer and consumer, India has been snapping up the discounted Russian oil, with daily shipments to the South Asian country surging to 2.2 million barrels a day in June, according to Kpler.
You can share this story on social media: