US fails to break Russia-India ties – leaked Pentagon documents
The files shed new light on how Washington snoops on allies and foes alike to further its unipolar world agenda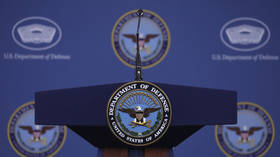 A cache of classified US documents leaked online last month has shed light on American intelligence gathered about other countries.
Images of the covert files initially appeared on the messaging app Discord in January, but went unnoticed until March. Discord later put out an official statement condemning the leak.
The documents consist of an elaborate timeline, dozens of military acronyms, including some items marked "top secret," which give a detailed picture of the conflict in Ukraine, raging since February 24, 2022.
"Top secret" is the highest level of classification. Some documents also contain the marking NOFORN, or "Not Releasable to Foreign Nationals," meaning they cannot be shared with foreign intelligence agencies, including the Five Eyes alliance – the US, Canada, UK, Australia and New Zealand – according to the New York Times.
Consider the documents' take on India, which has been keeping its distance regarding the Ukraine conflict, and refusing to condemn its traditional ally Russia's actions on global forums, including the United Nations (UN).
The leak claims that the US influence on New Delhi is on the wane. India's stance echoes those of other emerging powers such as Brazil and Egypt, amid Washington's face-off with Russia and China.
The US no longer reserves the bragging rights of an "unchallenged superpower" as far as India is concerned, while Washington pursues a unilateral hegemonic agenda.
India, which is emerging as a leading voice of the Global South, is consistently steering clear of Washington's foreign policy diktats.
The Pentagon report illustrates that India has no intention of taking sides in the standoff over Ukraine, as New Delhi's actions have demonstrated.
India's consistent outreach towards Russia – despite growing US pressure – came to the fore during National Security Advisor Ajit Doval's visit to Moscow in February, the leaks revealed.
Doval met his Russian counterpart Nikolai Patrushev on February 22, and assured him of New Delhi's "support for Russia in multilateral venues".
Doval purportedly told Patrushev that India was working to ensure the Ukraine conflict would not come up in talks during the G20 foreign ministers' meeting in New Delhi on March 1 and 2, despite "considerable pressure" to for the issue to be raised (India holds the rotating presidency of G20 and the summit will be held in New Delhi on September 9 and 10).
Doval also told Patrushev that India "would not deviate from the principled position it had taken in the past."
India has been reluctant to invite Ukraine's President Volodymyr Zelensky to the G20 summit, despite Kiev's relentless efforts to get him on the elite globalist list. Besides, Russia-India ties have gained a new lease of life through growing trade. India and China have emerged as two biggest importers of Russian seaborne crude oil, breaking historical records, and cocking a snook at US-led sanctions.
The leak has also shown that the US is a flagrant offender when it comes to eavesdropping on its key allies such as South Korea, the UAE, Israel and Ukraine, much to Kiev's disappointment.
Leading economies – from China and India to South America and the Arab world's most populous nations Brazil and Egypt, along with Russia – were all also in the crosshairs of US snooping.
The US appears to have hit a stumbling block in its attempts to "punish" Russia for the Ukraine conflict, resist China's growing maritime muscle in the Indo-Pacific, and to take an aggressive stance against "authoritarian" regimes.
Meanwhile, Pentagon officials have admitted that the documents are real. The FBI swung into action and arrested Jack Teixeira, a 21-year-old Massachusetts Air National Guard member.
However, the accused's audacious leak could inadvertently decide the outcome of the Ukraine conflict, and the US foreign policy overdrive might take the rap for a potential defeat.
The statements, views and opinions expressed in this column are solely those of the author and do not necessarily represent those of RT.
You can share this story on social media: