As Russia pivots away from the West, scores of delegates explore business opportunities in India
Business people from various sectors have flocked to New Delhi as the two countries seek to push bilateral trade to $50 billion this year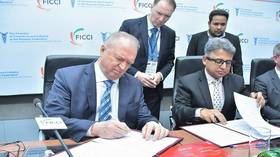 Around 100 Russian buyers, traders, manufacturers and supply-chain players gathered in New Delhi on Wednesday for a business event organized by the Federation of Indian Chambers of Commerce and Industry (FICCI) and the Russian Chamber of Commerce and Industry (CCI).
The bilateral business forum, which was followed by a multi-sectoral business-to-business (B2B) meeting, featured unique proposals for collaboration in sectors such as agriculture and food processing, chemicals, pharmaceuticals, energy, electronics and information technology, textiles and fashion, mechanical engineering, metallurgy, construction, and tourism.
The gathering was part of an ongoing push to expand trade between the two traditionally partner nations, which topped a record $31 billion last year and is eyeing $50 billion this year.
Many of the Russian delegates were on their maiden visit to India and eager to take advantage of India's efforts to streamline business interactions by removing administrative hurdles.
In his opening remark, FICCI's new secretary general, Shailesh Pathak, welcomed the Russian delegation and reminded them about converting the "strong emotional and cultural ties to transactional benefits." He urged the delegates to reach out to the industry body for "all kinds of assistance," pointing out the lack of crucial information as a major challenge facing medium, micro and small enterprises (MSMEs) and offering FICCI's help in bridging that "critical gap."
He pointed to the next BRICS summit, which will be held in Kazan under Russia's rotating presidency, as "a golden opportunity to explore business interests in Russia and will also help correct the trade imbalances. Our friendships can convert into steady cash flows," he added.
Russia's ambassador to India, Denis Alipov, referenced President Vladimir Putin's new foreign policy concept that was outlined on March 31, in which both India and China feature prominently in Moscow's scheme of things in a bid to promote multipolarity and global economic stability. He expressed optimism about the upward trajectory in bilateral ties, which could further improve the investment ecosystem.
"A Free Trade Agreement in Eurasia will remove trade barriers amid a boost to flagship connectivity projects, including the North-South corridor and marine routes such as between Chennai and Vladivostok," he said.
The diplomat also praised New Delhi's efforts to build consensus as the rotating chair of key global groupings such as G20 and the Shanghai Cooperation Organization (SCO). "India's ambitious agenda and inspiring initiative is leading to these result-oriented and forward-looking discussions, whose outcomes augur well for entrepreneurs from both nations," he said.
Sergey Katyrin, president of CCI and the guiding force behind the B2B meetings, spoke about the opportunities opening up before Russia and India owing to the prevailing circumstances surrounding the Ukraine conflict. He mentioned that the two countries' business relations would get a further boost during the upcoming session of the Intergovernmental Russian-Indian Commission on Trade, Economic, Scientific, Technical and Cultural Cooperation, which will be held on April 17 and 18. Its goal is to find lasting solutions to some teething issues, such as the liberalization of the visa regime and the challenges that Russian businesses face in setting up shop in India, largely due to a lack of credible information.
Challenges such as logistical issues and an "information vacuum" were likewise pointed out by Aleksandr Rybas, the Russian trade commissioner in India, who nevertheless noted that "the potential arc of cooperation is huge."
In a Q&A session with Indian participants, Alipov spoke at length about Russia's bid to invite highly-skilled IT workers, as the Indian diaspora in the country is miniscule compared to that of the West. Commenting on Russia's breakup with Western nations, he explained that the country refused to "live in Europe in a one-sided security situation" and dismantled Western officials' claims that Moscow was solely to blame for disruptions in global supply chains that have led to food and energy crises.
In the post-lunch session, the action shifted to parleys between the Russian delegates and the Indian MSMEs, blending business people on exploratory missions and veterans who have been familiar with the intricate rules and regulations since the USSR era. Russian-speaking Indian translators helped overcome the language barrier for the delegates who held preliminary talks about expanding their businesses in India.
A cross-section of Russian business delegates indicates a budding boom following the exit of Western companies from the Russian markets due to sanctions.
Mikhail Andryushchenko, the CEO of ANEKO Industrial Company, which manufactures wellhead equipment for drilling, service and operation of oil and gas wells, told RT that his firm's "business has gone up by 2.5 times since the sanctions kicked in last year." The employees at ANEKO – which is headquartered in Chelyabinsk, Russia – are working around the clock to meet the growing demand, he said. "I am on my first visit to India to source equipment since we have not been able to meet the demand. I am in talks with two Indian companies for the equipment," Andryushchenko added.
Ekaterina Ulyantseva, the director of the Center for Foreign Economic Activity, echoed his words, saying that the oil and gas sector has not been impacted by Western sanctions. Natalia Osipova, the vice-president of the South Urals Chamber of Commerce & Industry, voiced a similar sentiment, as Russia's core energy sector has weathered the West's punitive action.
Anastasiya Prokopova, the deputy head of the marketing department at AMT, a leading name in 3D construction printing, said her company made a foray into the Indian market around four years ago. "The biggest challenge has been effective communication with customers," said Prokopova, as her firm is simultaneously exploring opportunities in the Middle East and Türkiye, where there is a massive demand for 3D printing in the construction sector.
"Initially, the sanctions did create some hiccups, but later the crisis was overcome as we looked to import materials from China," said Anastasiya Bakunova, the head of the commercial department of an instrumentation production company in Chelyabinsk. She praised the Putin administration for the support it has provided to businesses amid the "hard times."
Sergey Zakarlyukin and Elena Zakarlyukina, a husband-and-wife duo, have been looking for partners for their 27-year-old metallurgical firm, METCHIV. Though they have paid India several visits since 2016, they are yet to strike a firm deal amid their business soaring 200% in the past two years.
Roman Begov, the general director of the metalworking machinery distributor Geller, who served as the couple's interpreter, said, "METCHIV is a prime example of indigenous Russian technology known for nickel-based alloys and a critical component for aerospace companies. It's a good deal for Indian manufacturers to strike a handsome bargain that could be a win-win for both parties."
Begov's sales pitch echoed what Aleksey Valkov, the director of the St. Petersburg International Economic Forum (SPIEF), told RT last week, on the sidelines of another India-Russia business forum in New Delhi: "Indian business has the opportunity to fill vacant niches in several sectors of the Russian economy."
You can share this story on social media: