Russia and India eye closer business ties ahead of St. Petersburg International Economic Forum
Plans are being made to push bilateral trade to $50 billion this year following a sharp uptick in energy and fertilizer imports by New Delhi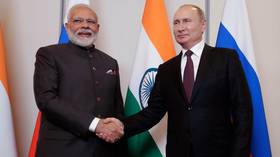 New Delhi is playing host this week to the 'Russia-India Business Forum: Strategic Partnership for Development and Growth'.
The gathering, taking place on Wednesday and Thursday, is part of the foreign events program under the auspices of the St. Petersburg International Economic Forum (SPIEF), whose 26th iteration will be held from June 14 to 17.
Russia is one of India's traditional partners and is seeking to further bolster bilateral ties by forging high-tech alliances in various fields of convergence, including IT, cybersecurity, industry and manufacturing, smart cities, transport, logistics, and healthcare. Moscow and New Delhi plan to push bilateral trade to $50 billion this year, from a record $31 billion last year following a sharp uptick in energy and fertilizer imports by India.
The planned collaborations that will be discussed at the Russia-India forum are expected to support Russian companies as sanctions and trade restrictions force them to pivot away from the West and focus on new markets. "The Russia–India cooperation format is one of the drivers of region-wide efforts to improve the architecture of inter-state relations in the Asia–Pacific Region (APR). The forum is designed to strengthen business ties between the Russian and Indian business communities, to support our businesses entering the Indian market and to acquaint Indian partners with specific export offers," Anton Kobyakov, an adviser to Russian President Vladimir Putin, said in a press release.
Representatives of Russian and Indian government agencies, commercial and industrial organizations will be taking part in the two-day event. Veronika Nikishina, general director of the Russian Export Center (REC), one of the organizers of the event, said: "As part of the Forum, the REC will be carrying out a high-tech business mission, in which over 20 Russian companies from the IT sector, business process management, mechanical engineering, construction, energy and medicine will be taking part. A number of Russian companies have products and solutions that are unique and often unrivaled throughout the world. The REC will be arranging B2B [business-to-business] negotiations for them with potential Indian buyers and partners."
The forum will host a panel discussion titled 'Technological Alliances in the Greater Eurasia', which will seek to find common ground between Russia and India in high tech, one of the most in-demand areas of mutual interest as the two countries seek to break out of the digital monopoly belt of Western powers. India's IT sector is expected to grow to $245 billion this year, according to the National Association of Software and Service Companies (NASSCOM), a non-governmental trade association and advocacy group.
"The visiting session format is always very effective. During the event, participants exchange views on opportunities and prospects for economic cooperation, the specifics of legislative and executive government activities to ensure a favorable business climate and create the necessary legal conditions for businesses to operate," said Alexey Valkov, director of SPIEF.
You can share this story on social media: