Indian PM offers hints to Russia in critical speech
Does Narendra Modi's anti-war quote hold a hidden message for Putin?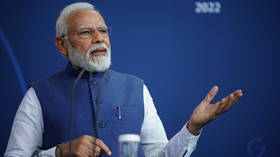 India was among 32 nations that abstained on Thursday in the United Nations General Assembly (UNGA) vote on a resolution on "comprehensive, just and lasting peace" in Ukraine in line with the principles of the UN Charter.
But New Delhi's position on Russia's military offensive in Ukraine, a conflict that's just marked its first anniversary, is ambiguous on a global stage.
On one hand, it seems that India wants to weigh in Moscow's favor and on the other hand, it appears that New Delhi tilts towards the US and the Global North, or the developing economies.
If the UNGA move can be seen as a pro-Russia gambit, India's Prime Minister Narendra Modi quote for a promo for the eighth edition of the Raisina Dialogue exposes a duplicitous foreign policy.
Raisina Dialogue, which is modeled along the lines of Shangri-La Dialogue and was started by the Modi regime in 2016, is India's flagship conference on geopolitics and geo-economics. The conference is hosted by the Observer Research Foundation (ORF), an independent think tank owned by Indian billionaire Mukesh Dhirubhai Ambani, in collaboration with the Ministry of External Affairs of India, and will be held from March 2 to 4. Prime Minister Modi will inaugurate the conference, where the chief guest will be Europe's right-wing poster girl and Italian PM, Giorgia Meloni.
What is PM Modi's quote?
The promo aims to showcase PM Modi as a pacifist and an anti-war crusader.
It tried to subtly insert a quote in Hindi "aaj ka yug yudh ka nahin," which loosely translates to "today's era is not one of war" in the 110-seconds-long ORF video.
Modi had made this remark during the 22nd annual Shanghai Cooperation Organization (SCO) summit in Samarkand, Uzbekistan, in September 2022, where Russian President Vladimir Putin was also present.
The timing of the quote
It appears that there is a deliberate attempt to use the quote ahead of the G20 foreign ministers' meeting in New Delhi on March 1 and 2. The quote will certainly attract the attention of US Secretary of State Antony Blinken, who is scheduled to arrive in New Delhi on March 1 to take part in the meet.
By bringing back Modi's quote, New Delhi appears to be sending a message to President Putin and Moscow to put an end to the "special military operation" in Ukraine.
It also aims to catch Russian foreign minister Sergey Lavrov's attention, who will be participating in the G20 meeting and the Raisina Dialogue. Lavrov is being seen as the messenger to get the message delivered to President Putin.
India, which is trying to assert its position as the self-appointed leading voice of the Global South, or of the developing world, finds it an opportune moment to make a nuanced statement. The ratcheting of tension between the US and Russia must end because it is hurting the global economy and, more significantly, developing nations. Many of these poor countries across Asia, Africa and Latin America, unlike India, have not been able to strike a happy balance between Washington and Moscow and are getting squeezed in this proxy war.
India upholds democratic values
Modi's words seek to hit home the point that though India will persist with buying Russian crude oil at a discounted rate, despite US pressure, New Delhi will stand by its democratic beliefs.
India seeks to err on the side of caution by being seen with Western democracies and its officials are hosting several American influencers ahead of the G20 foreign ministers' meeting.
US assistant secretary for energy Geoffrey Pyatt was in town last weekend. On February 20, Modi met a group of US Senators led by Democrat Chuck Schumer, and discussed his "shared vision" with US President Joe Biden to elevate the bilateral relationship.
India First
Does the Modi quote reinforce the argument that New Delhi is speaking with a forked tongue?
Indian foreign policy mandarins disagree with that notion. They maintain that this is a sign of the changing times, where an "India First" foreign policy is the need of the hour. New Delhi decides for itself, and its independent foreign policy cannot be subject to any kind of coercions.
India, which is home to one-fifth of the world's population, deserves the right to form and hold its own position and to weigh its own interests in a multipolar world.
You can share this story on social media: