Can India supplant China as the voice of the Global South?
New Delhi seeks to expand its influence over Asian, African and Latin American countries looking for ways out of Beijing's debt burden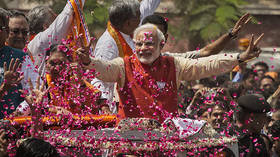 India is pulling out all the stops to emerge as the self-appointed leading voice of the Global South by dislodging its 'hostile' neighbor China.
The developing economies in Asia, Africa and Latin America, collectively dubbed the Global South, will come under New Delhi's soft power lens at the first G20 finance ministers and central bank governors meeting under India's G20 presidency, which will be held in Bengaluru on February 24 and 25. India's Finance Minister Nirmala Sitharaman and Reserve Bank governor Dr Shaktikanta Das will jointly chair the meeting.
To be sure, in its bid to become the voice of the Global South, India is going up against the financial muscle of China, which is giving away billions of dollars in soft loans and grants to these developing economies. One example of this is Chinese President Xi Jinping's ambitious Belt and Road Initiative (BRI), extended to around 150 countries and at an estimated cost of $8 trillion, of which Beijing has spent upwards of $1 trillion.
New Delhi is taking a contrarian stance to China's and is trying to impress upon the cash-strapped nations across these three continents the importance of debt relief. Otherwise, they may end up with what happened in Sri Lanka last year, where an unprecedented economic crisis triggered in part by external debt led to massive anti-government protests. Pakistan, too, is heading for a similar economic crisis.
India is keen to chart its own course as New Delhi is 'cocking a snook' at the US and Western sanctions over Russia's military operation in Ukraine, which enters its second year on Friday – the day the meeting in Bengaluru starts.
The US courts India
India is willing to play ball with Russia over energy security, while Washington simply can't afford to isolate New Delhi because of its growing geostrategic and economic heft.
In absolute numbers, China's economy is far stronger than India's. For instance, while data shows that the gross domestic product (nominal) of both Asian countries was almost equal in 1990, China has since forged ahead at a tremendous pace. As of 2021, China's GDP was 7.7 times greater than India's, while on purchasing power parity (PPP), China outpaced India by 2.7 times.
However, there appears to be a discernible shift in the power structure. India, under Prime Minister Narendra Modi, is working on making itself more attractive for foreign investments, which were pegged at about $85 billion last year, compared to China's $189 billion. The paradigm shift is in the works because American policymakers are acutely mindful of the fact that Indian economic growth holds the key to Washington's lofty strategic ambitions in the Indo-Pacific.
Successive US administrations – irrespective of their political hues – are in favor of made-in-India products having access to American markets, as China loses its manufacturing sheen to other Asian nations such as Vietnam, Malaysia, Bangladesh, India and Taiwan.
In the shifting geostrategic power structure, as exemplified by the running feud between the US and both Russia and China, more emphasis is being laid on the Quad grouping: the US, India, Japan, and Australia.
New Delhi's priorities
India's priorities during the year-round G20 activities include pushing for a raft of reforms in global institutions, creating awareness of the dire need for economic aid for low- and middle-income countries, who are facing mounting debts and cannot service them. Climate initiatives and sustainability challenges also figure high on the agenda, according to India's Chief Economic Adviser V Anantha Nageswaran.
India's G20 sherpa Amitabh Kant, too, has been turning up the heat on China to come clean on its loans to the developing countries.
"China needs to come out openly and say what their debt is and how to settle it," said Kant, according to a Bloomberg news report. "It can't be that the International Monetary Fund [IMF] takes a haircut and goes to settle Chinese debt. How is that possible? Everybody has to take a haircut," the sherpa was quoted as saying.
According to World Bank, the world's 74 lowest-income nations are indebted to China to various degrees. Countries heavily in debt to China are largely located in Africa, but there are several nations in Central Asia, Southeast Asia and the Pacific as well. Of the $35 billion that these low-income nations, such as Angola, Ethiopia, Djibouti, Pakistan, Sri Lanka and the Maldives, owed in debt service payments last year, about 37% or $13.1 billion was to state-run Chinese entities.
Challenges before the Global South
The Global South is facing critical issues like an unabated rise in the prices of crude oil, food, and fertilizers, in addition to the mounting debt and rapidly deteriorating economic growth. Last November, during his talks with Russia's Foreign Minister Sergey Lavrov in Moscow, Jaishankar said, "The Global South feels the pain [of rising prices]."
He spelled out India's need to buy oil from Russia. "India is the third-largest consumer of oil and gas, where incomes are not very high. We need to look for affordable sources, so the India-Russia relationship works to our advantage. We will keep it going."
Voice of the Global South Summit
Earlier, Jaishankar had defined the thrust of New Delhi's G20 presidency, and referred to India as "the voice of the Global South." Modi appeared to have taken a cue from Jaishankar and convened a virtual summit of developing countries on January 12–13, which he christened the "Voice of the Global South Summit."
Eight ministerial-level thematic sessions were held, which involved the ministers of finance, trade, environment, energy, health, and education. Two sessions were for the foreign ministers, where the focus was on the priorities of the Global South, and their suggestions for India as the G20 president.
Valuable input was provided by foreign participants. For example, Mozambique's President Filipe Nyusi emphasized the need for concerted international efforts to focus global attention on promoting the interests of the developing world. Nigeria's President Muhammadu Buhari drew attention to the huge debt burden that had derailed many countries' development plans.
"Developing countries should put forward 'a common agenda' to present our collective demands to the Global North," he said.
Bangladesh's PM Sheikh Hasina Wajed presented a bouquet of six proposals: maintaining world peace and stability; creating a new paradigm to tackle inequality holistically in accord with sustainable development goals; special financing for the most vulnerable nations; bridging digital divides; ensuring that all human beings, including Myanmar's Rohingya refugees sheltered in her country, have an equal right to lead a decent life; and fostering tripartite cooperation to ensure global human development.
Modi emphasized that the Global South wanted "a globalization that brings prosperity and well-being to humanity as a whole." He added that "a human-centric globalization" was the need of the hour and solemnly assured his guests that "India's G-20 Presidency will attempt to voice the views of the Global South on these important issues."
New Delhi touted it as the biggest digital conference of the leaders and ministers of the developing world. "As far as India is concerned, your voice is India's voice. Your priorities are India's priorities," Modi said.
Altogether, 125 nations took part in the digital conference. The geographical breakdown was 29 countries from Latin America and the Caribbean, 47 countries from Africa, seven countries from Europe, 31 countries from Asia, and 11 countries from Oceania. Of them, 11 countries participated at the leaders' level at the inaugural session and seven countries took part in deliberations at the concluding session, both chaired by Modi.
Terming the summit "a unique beginning," India's Foreign Secretary Vinay Mohan Kwatra stressed that its key feature was "the need for articulating the voice of the Global South in international institutions and for reforming them for a balanced representation of the developing countries." He promised "the strongest endeavors" by the government to channel their ideas, priorities and concerns into the G20 process, piloted by India.
In its quest to become a leader among developing economies, India is facing great challenges, but is firmly set on exploiting every opening and take its place among the key figures of the emerging multipolar world. And it has the edge necessary to do so, thanks to its equidistant ties to the US and Russia and robust trade links to China, which have endured despite the two nations' cross-border disputes.
The statements, views and opinions expressed in this column are solely those of the author and do not necessarily represent those of RT.
You can share this story on social media: