India hasn't decided about Zelensky G20 role – media
Kiev is demanding New Delhi's endorsement ahead of the September summit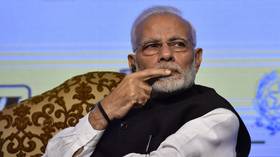 Ukraine wants President Vladimir Zelensky to be invited to the G20 summit in New Delhi this September, despite not being a member of the club of large rich nations, Indian media has reported.
Kiev has been wooing Prime Minister Narendra Modi with a charm offensive, the Deccan Herald claimed on Tuesday. The outlet noted that a delegation of Indian diplomats, possibly led by Modi's national security advisor, Ajit Doval, might travel to Ukraine in the coming weeks.
However, it added that Modi has not committed to bringing Zelensky to the G20 or paying a visit to Kiev himself, despite Ukraine's entreaties.
Ukrainian Deputy Foreign Minister Emine Dzhaparova is visiting India this week, insisting in a series of meetings with junior government officials that New Delhi needs to denounce Moscow and endorse Kiev instead. She is the highest-ranked Ukrainian official to arrive in New Delhi since the hostilities with Russia escalated in February 2022.
India "wants to be the Vishwaguru, the global teacher and arbiter," Dzhaparova tweeted on Monday. "In our case, we've got a very clear picture: aggressor against innocent victim. Supporting Ukraine is the only right choice for true Vishwaguru."
Ukraine considers India "a leader of the global south" and hopes New Delhi will be "involved and engaged in global issues and challenges," Dzhaparova told journalists after meeting with Sanjay Verma, secretary for the West at the Indian foreign ministry.
In a follow-up TV interview, she said that Ukraine was eager to host Doval and expected India to invite Zelensky to the G20 summit. Though Ukraine is not a part of the G20, Zelensky was invited by Indonesia to address last year's gathering via video-link, delivering a diatribe against Russia.
"We believe intensification of political dialogue on the highest level is [the] first step towards this big goal. My president is requesting a phone conversation with the prime minister. We are looking forward to welcoming him in Kiev one day," Dzhaparova said.
India has always had substantial trade and military ties to Russia, which have only increased in recent years. It is currently one of Russia's best customers when it comes to buying oil, especially after Moscow cut off all sales to the US, EU and any countries participating in their price cap scheme, intended to complement the embargo imposed over the Ukraine conflict.
You can share this story on social media: