Yandex limbers up for Nasdaq listing
Published time: 29 Apr, 2011 11:36
Edited time: 29 Apr, 2011 16:29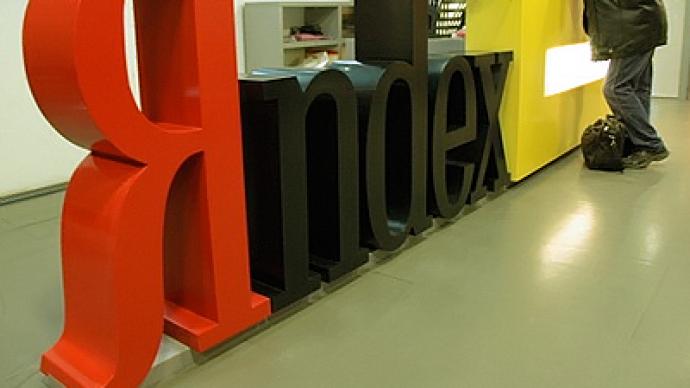 Russian Internet service Yandex, has announced it has filed for a listing on the Nasdaq Global Market, without revealing the size of the offering or price range. The IPO will offer new shares as well as existing shares.
­Morgan Stanley has been appointed as the global coordinator for the IPO with Deutsche Bank and Goldman Sachs the joint book runners. According to the company statement the funds raised from the placement will be used for corporate purposes, including investments in technological infrastructure, new service development and data centres.
Yandex is following the Mail.ru IPO of 2010 which saw an 18.4% share gain the company $1 billion and a valuation of $5.71 billion.
Just a day prior to the Yandex official announcement, Mail.ru shareholders placed a further 6.65% of their shares for $32.5 per share on the market yielding up $450 million
Mikhail Zak, Managing Director at Veles Capital, said that it's not the first time Yandex has announced IPO plans after earlier moves were stymied by the global financial crisis and economic downturn.

"Yandex had planned on an IPO before the recession of 2008, and had to postpone the listing due to the drop in the market. Apparently, the success of its rival –Mail.ru has encouraged Yandex plans to list again. Another coincidence showing a correlation between these companies is the choice of underwriters for the IPO –the leading western investment banks and companies. In connection with the choice of platform for trading of securities, NASDAQ is very popular among internet and IT companies and indeed will provide for appropriate international investors. The exact day for listing has not been defined yet and I see no reason to consider rumours about pricing or assumptions of a  10-20% listing." 

Irina Penkina, BCS analyst, says that Yandex is one of the few  Russian IT companies with a huge market share, adding that its IPO will attract interest.

"Yandex and its business should be very interesting for the market investors. Russian IT sector is rather small divided between several national companies running business locally and providing services on the domestic market. Mail.ru IPO has shown a tremendous success and I believe, Yandex with its rapidly growing context advertising service compared with Google and Mail.ru may expect an impressive result from an IPO."

Investcafe analyst Georgy Voronkov, said the price will be the main issue for the investors 
"Yandex is without any doubts an interesting investment, however we cannot compare it with global IT market players such as Google and Yahoo and hence it is ridiculous to evaluate the search engine of Russia higher than its global counterparts. I took a simple and well known formula for company evaluation which calculates the company cost as a 4.6 times its annual profit. In the case with Yandex this equation gives us a mere $3.2 billion. I expect the IPO organizers will definitely overvalue the company using a Chinese analog, Baidu, as a base for comparison, which is certainly not an example at all in terms of market growth and volumes. Actually, Yandex can be compared to Mail.ru neither in terms of market share nor in business diversity. Mail.ru is a huge Internet Group including shares of the world leading internet social projects, web search services and internet advertising business. Yandex is by far Russian largest search engine and rapidly growing internet advertising provider. In my opinion Yandex could have gained more if listed earlier soon after the Mail.ru did."