WTO salvages historic $1 trillion trade deal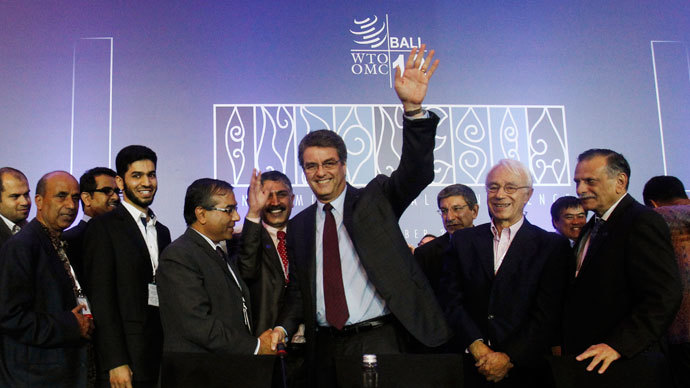 The World Trade Organization has formally approved a historic package of agreements after over a decade of negotiations. Trade talks among 159 world economies came to an end after Cuba dropped its objections to the draft agreement.
"For the first time in our history, the WTO has truly delivered," WTO chief Roberto Azevedo said. "This time the entire membership came together. We have put the 'world' back in World Trade Organization."
Now, after finally being sealed, the WTO deal is expected to boost world trade by $1 trillion from a current estimate of $22 trillion, as well as ease customs red tape.
For a WTO deal to be passed, there must be either a consensus or support by all member states, but earlier on Friday Cuba threatened to veto the package of measures.
The latest delay of the trade agreement that has been on the table for almost two decades was largely unexpected, as even India that was seen as a potential objector welcomed the draft document.
"It is a victory for the WTO and for the global community to have arrived at a mature decision," Indian Trade Minister Anand Sharma told reporters on Friday. "We are more than happy. It is a great day. It is a historic day."
India at first rejected the deal because it jeopardizes food freedom for its 1 billion population - as the WTO wants to enact farm subsidy and tariff reductions that would put poor farmers at a disadvantage.
Indonesia, India, and other members of the G33 farming group, insisted that an agricultural subsidy should be limited to 10 percent of total production over four years, which is supposed to partially protect farmers from foreign imports.
Credibility at stake
Failing to agree in Bali could have been seen as a signal the governing trade body was no longer relevant or credible.
Negotiations failed last month in Geneva, Switzerland, as diplomats at the summit were unable to strike an agreement on lower tariffs. Consensus was eroded as countries favor smaller scale talks, for example the Trans - Pacific Partnership (TPP) deal between the US and EU, and the soon to be Eurasian Economic Union.
Protests in Bali
More protestors took to the streets in #Bali today to rally against #WTO#MC9pic.twitter.com/bXDh92aio7

— Global Trade Watch (@PCGTW) December 6, 2013
Around 500 protestors, mostly farmers and fisherman, gathered outside the conference and called for it to be cancelled.
The protestors feel the WTO hasn't brought economic justice, and only serves to benefit the developed countries in the trade bloc.
"We are here to end the WTO. The WTO has killed farmers and caused so much pain in the world. Huge transnational corporations pain the people," said Yoen Goem Soen from the Korean Women's Peasant Association.
You can share this story on social media: