Russian wheat price reaches historic highs
Published time: 4 Jul, 2012 09:47
Edited time: 4 Jul, 2012 15:05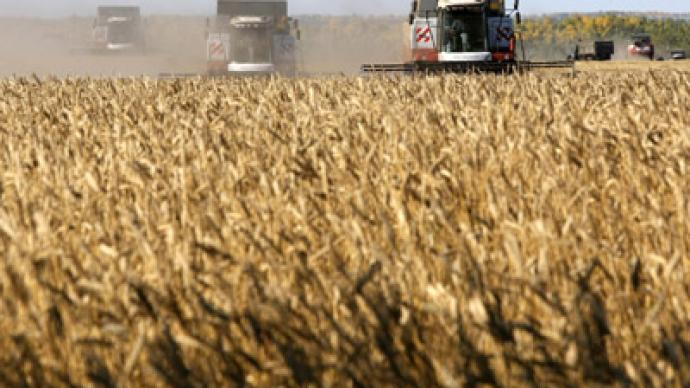 Prices for Russian fourth-grade milling wheat skyrocketed due to the drought in the US and Latin America.
­Prices rose to a historic 8900 roubles ($276) from 7075 ($219) a metric ton a week ago in the Black sea ports according to the Institute for Agricultural Market Studies (IKAR).

This is the first price hike since the 2010 drought in Russia when the government was forced to impose an export embargo to prevent home market prices from rising. The embargo was lifted in 2011.

Global wheat and maize prices also jumped nearly 30% mainly due to a drought in the United States and parts of Latin America. According to the US Department of Agriculture about 22 percent of the wheat crop has suffered and less than 50 percent remained intact.

"Another reason for the price hike is the drought in parts of Rostov and Krasnodar regions in Southern Russia that forced the Agriculture Ministry to cut its 2012 harvest forecast to 86,5 million tons from an earlier estimate of 94 million tons",  said Dmitry Rylko, General Director of IKAR.

Russia's grain stocks fell to 16.8 million tons on June 1 from 22 million tons on May 1, according to the State Statistics Service data.

Russia, the world's second wheat exporter after the United States, plans to export between 13.5 million to 13.8 million tons of wheat for the season 2012-13. That's compared with an estimated 21 million tons in 2011-12, according to IKAR.
The main importers are Middle East and North African countries.

Russia may even consider imposing another grain export ban if price rises continue.
"I hope this doesn't happen" says Dmitry Rylko. "It's still too early to say. Things can change for the better."
Meanwhile exporters have slowed down their business, waiting for a wider margin between international and domestic prices.