US grain company seeks a piece of Russian wheat pie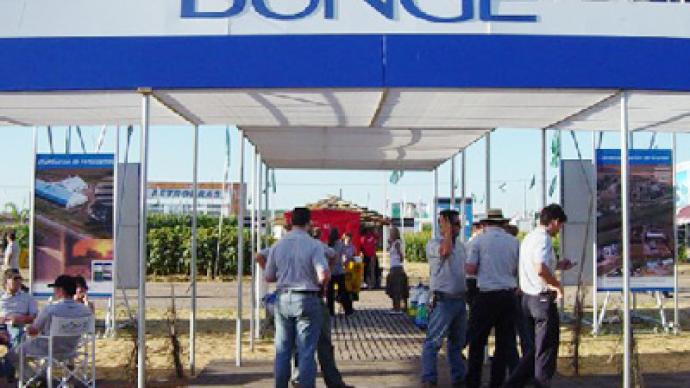 U.S food company Bunge Ltd is considering buying a stake in Russia's United Grain Co, one of the world's leading wheat producers, as the Russian state prepares to sell a 50% stake in the company.
"Right now there's the privatisation of United Grain Co. We are all interested in it," Jordi Costa, Vice President for Bunge's Agribusiness, Sugar and Bioenergy, told Reuters. UGC issues additional shares to sell a stake of 50% minus one share in the company by May 2012. Full privatization would be completed by 2017. The company accounts for 11% of Russian grain exports which reached 22mln tones in 2011. Currently Russia is the second largest grain exporter in the world, following the US."We see a partnership with a Russian champion linked to the government as more likely than a private company stepping in," Mr Costa added.UGC hasn't confirmed whether it receive a bid from Bunge. Meanwhile a number of companies have already expressed an interest in a rare chance to buy into Russia's major grain producer. Bunge's major rival Louis Dreyfus Commodities, Russian investment group Basel, owned by Oleg Deripaska, Rusagro Holding, and Russian investment group Summa are among them.Experts say foreign companies could face a problem when buying a share of the Russian grain exporter. "UGC is also a state agent managing an intervention fund for market regulation. Whether the state would allow foreign firms to participate in market regulation remains unclear," said Andrey Sizov from Sovecon.He adds UGC is likely to be deprived of its regulatory functions during the privatization.Bunge has been operating in the Russian market since 2004. The Russian subsidiary is engaged in grain trading and produces and distributes several brands of bottled vegetable oil.With a purchase of a UGC stake Bunge would significantly boost its sales as grain exports are expected to surge this year reaching 25 million tonnes. The Russian Government has increased the grain export forecast from 25 to 27mln tonnes.If the country sends abroad 25mln tonnes of grain, it will set a record for Russia. The country set a previous record in 2008 exporting about 23.6mln tonnes.
You can share this story on social media: