Market Buzz: US earnings season to boost confidence
Published time: 16 Jul, 2013 06:31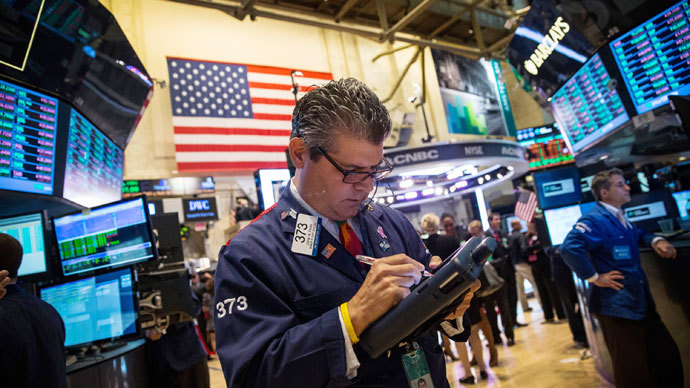 The US earnings season has kicked off with positive results. Citigroup, a leading global bank, reported a 42 percent increase in quarterly profits, and other powerhouses such as Johnson & Johnson and Goldman Sachs Group are scheduled to report Tuesday.
The positive start translated to positive index closes across the board. The Dow Jones Industrial Average finished up 0.13 percent, the S&P climbed 0.14 percent, and the Nasdaq Composite increased 0.21 percent.

The US will release official consumer price inflation and industrial production data Tuesday.

Russian stocks, led by oil major Gazprom and bank leader Sberbank, will continue their climb, following last weeks' 4.1 percent MICEX surge.  The RTS continues to rise on higher oil prices, and climbed 0.22 percent by market close Monday.

WTI and Brent are slightly down on Asian floors, WTI Crude down 0.25 percent at 105.67 and Brent is down 0.26 percent at 107.79.

Asian stocks are reacting positively to preliminary US earnings buoyancy, and the rupee could see a slight recovery after hitting a 3-month low. The record low rupee prompted the Bank of India to raise benchmark interest rates, which sent stocks to a two-week low.

The Topix gained 0.5 percent and the Shanghai Composite index lost 0.3 percent. Japan's Nikkei 225 is also performing strongly, up 0.48 percent to 14,575.42 and is set to hit a two-month high. Australia's S&P 200 index has rose 0.01 percent.   

The Aussie dollar strengthened the most in two weeks against the dollar to 91.75 US cents.

London's FTSE 100 index continues to make steady comeback gains from last week's drop and is trading up 1.08 percent at 15,587.34. Germany's DAX finished up 0.27 percent and may hit a one-month high Tuesday. France's CAC is up 0.61 percent at 3,878.58. The Euro Stoxx Blue-chip index is up 0.44 percent.

Germany will announce investor sentiment Tuesday, which is forecast to show improvement.