US could 'derail' economic recovery – OECD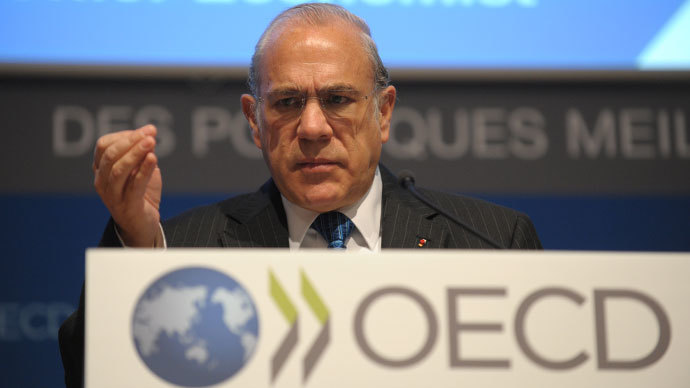 The most immediate threat to the global economy is coming from the US and its debt ceiling, warns the Organization for Economic Cooperation and Development (OECD), marking a major shift in concern from the eurozone to the world's biggest economy.
The Paris-based research organization released its bi-annual Economic Outlook report, which placed a heavy focus on the risk of a "binding" debt ceiling.
"Brinkmanship over fiscal policy in the United States remains a key risk and uncertainty," Angel Gurria said at the news conference in Paris on Tuesday.
Country3rd quarter GDP2nd quarter GDP
United States 0.8% 0.7% United Kingdom 0.7%  0.6% Japan 0.5% 0.9% Germany 0.3% 0.7% France -0.1% 0.5% Italy -1.9% 0.2 % European Union (28) 0.2% 0.3% OECD area 1.4% 1.0%
The debt ceiling should be abolished, and replaced by "a credible long-term budgetary consolidation plan with solid political support," the OECD said.
The group sets out a goal of lowering the budget deficit by 3.3 percent to prevent major "spill over effects" into other markets and economies.
If the US keeps on extending its borrowing limit, it will continue to muddle through its financial reality, which will have adverse effects on the global economy. The report runs four separate macroeconomic scenarios looking at what happens if the US keeps up their big spending.

The scenarios look at varying falls in the budget deficit from between 4 and 6.5 percent.  A budget deficit decrease would send the economy into varying degrees of recession, and the shock would spread globally.
"These events underline the prominence of negative scenarios and risks that the recovery could again be derailed," OECD chief economist Pier Carlo Padoan said.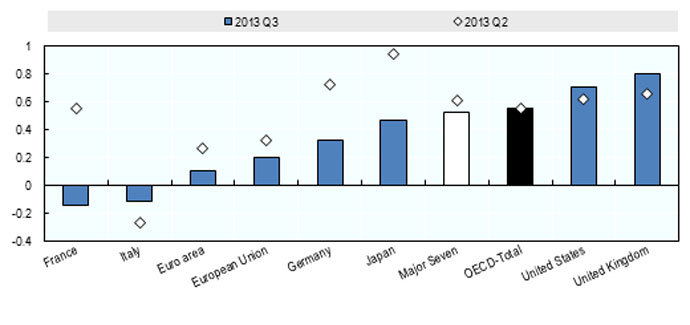 If the US reduced their budget deficit by 6.5 percent of GDP, all 34 member states of the OECD would be in recession
"The exit from non-conventional monetary policy will be challenging, but so will action to prevent another flare-up in the euro area and to ensure that Japan's growth prospects and fiscal targets are achieved," the report said.
Emerging markets are experiencing what the OECD calls "global spillover" – slowdown from the financial crisis. Because BRICS countries make up more and more of World GDP, their lack of growth is having a more far-reaching effect.
"There is also a risk that tapering of asset purchases by the US Federal Reserve could bring a renewed bout of instability," the report said.
Despite the turbulence, the OECD recommends the US begin to taper 85 billion per-month bond buying program next year, saying it has to begin sometime, despite  spillover market effects. 
"The continuous affair of discussing debt every few months is simply detrimental to confidence levels and therefore growth," Padoan said.
In 2012, the OECD issued a similar warning to the US that they need to gradually reduce their massive federal budget deficit.
'Sizable risks'
Other "sizable risks" include the unstable Japanese fiscal situation and "lagging and uneven" growth in the eurozone.
Fragile public finance, uncertain political situations, and weak balance bank sheets pose a threat to eurozone recovery.
Growth in the UK acerbated to 0.8 percent in 3Q, Japan's growth slowed but increased 0.5 percent, and German growth slowed to 0.3 percent.
Overall, global recovery is real, but slow, and there "may be turbulence on the horizon" according to Gurria. Global GDP grew by 0.5 percent in the third quarter of 2013, unchanged from the previous quarter.
Growth is projected to gradually gain momentum in 2014 and 2015, but recovery will remain modest.
In the 34-member OECD GDP growth is expected to accelerate to 2.3 percent in 2014 and 2.7 in 2015, up from 1.2 percent in 2013, according to simulations.
Outside of the OECD group, the world economy will grow faster- at 2.7 percent in 2013, 3.6 percent in 2014, and 3.9 percent in 2015.  The forecast is weaker than its last report in May.
You can share this story on social media: