OECD gloomily cuts global growth outlook to 3.1%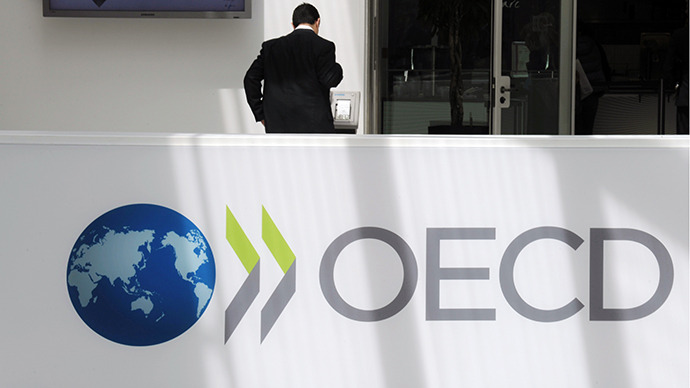 The Organisation for Economic Cooperation and Development (OECD) predicts the recession-hit eurozone will fall further casting a shadow over the improving US and rebounding Japan.
The leading economic think tank says, the world economy should grow 3.1 percent this year and then accelerate to 4 percent in 2014. That's a more pessimistic outlook than its 3.4 percent forecast in November.
The euro zone will remain the drag on global growth. The OECD sees its economy remaining in recession for a second year, contracting 0.6 percent. The growth may resume next year at 1.1 percent.
The OECD's chief economist, Pier Carlo Padoan called on countries to cooperate to facilitate growth: "While still disappointing, the global economy is moving forward, and it is doing so at multiple speeds. These multiple speeds reflect different paths towards self-sustained growth, with each path carrying its own mix of risks."
The grim outlook for Europe contrasts with the forecast for the US, which is expected to grow almost 3 percent next year. The organization has praised Washington's successful re-capitalisation of its banks that helped revive the economy.
"In the United States, the combination of a repaired financial system and a revival in confidence is driving growth. Private sector demand is stabilising as household de-leveraging is far advanced, house prices are rebounding and wealth accumulation is supporting consumption. Employment is growing, adding to confidence", Pier Carlo Padoan says. However, he criticized the US Congress decision to impose public spending cuts, a so-called sequester, before the recovery firms up.
The think tank has slashed its forecast on China cutting growth rates to 7.8 percent this year from a previous 8.5 percent.
The OECD has lifted its estimate for Japan, saying the BOJ aggressive monetary stimulus would help its economy grow by 1.6 percent this year. It has blessed the country's central bank's policy and said further moves could be used to boost the economy.
The OECD said central banks of most countries in recovery mode should also keep monetary policies easy. It has called on the European Central Bank to dramatically step up its efforts to get credit flowing to the economy.
You can share this story on social media: